July 19, 2022
By Rebecca Friedman, Wolfsonian Public Humanities Lab director, and Isabel Brador, Wolfsonian assistant director of digital experiences

Artist David Anasagasti (also known as Ahol Sniffs Glue), winds through Miami's streets on his almost daily bike rides. Averaging anywhere from 20 to 50 miles a ride, he stops at unexpected places—a random stop sign, a pile of construction debris, a parking lot—quickly opens his backpack filled with cans of spray paint, and gets to work tagging pieces of trash, transforming waste into coveted art objects. He then snaps a picture of each newly minted art piece and uploads it to his Instagram account, @aholsniffsglue, letting his followers know a new find is up for grabs.
Surprise, possibility, chance, and discovery are integral to his work, which centers on leveling the playing field and allowing anyone to be a collector with access to art. Pieces range from the small and unassuming—such as flip flops and pallet boards—to those large and eye-catching, like couches, giant pieces of foam, and nearly 3-foot saltwater pool filters.


Anasagasti explains how he selects which articles of trash to tag: "There's plenty involved in picking what piece I paint—from what color I have with me, to how many things I've painted on that ride. I always keep the overall collection in mind, and I remind myself that riding is the most important part. But the more unique the trash, the better: kitchen sink, BBQ, hubcaps. I want the finder to appreciate the uniqueness as much as the chase."
While initially a street artist, the pandemic opened new possibilities for Anasagasti; he was able to continue his tagging practice while bringing attention to the amount of garbage we produce. In drawing awareness to this ecological hazard, he brings an environmentalist valence to the long history of artists transforming everyday things into sculpture, such as Marcel Duchamp, who modified ordinary manufactured objects to take on second lives as works of art. By tagging pieces of "garbage," items that often escape our notice, Anasagasti elevates them to the realm of art and draws attention to a global issue.
Anasagasti's art pieces have been on display throughout Miami Beach in Geographies of Trash: Art Cycling with Ahol Sniffs Glue, the artist's brainchild born from his desire to "speak back" to Art Basel. Anasagasti views the larger-than-life art fair as not only a catalyst for untold creativity and social change, but also an invasion leaving behind a great, big mess for the city every year, a not-unusual problem after major urban events. He designed Geographies of Trash to shake up this status quo.
The first installation in the series took place during Art Basel 2021 at the Paramount Miami Worldcenter, which presented trash-to-art pieces generously loaned by Anasagasti's fans-turned-collectors. His followers were also invited to share their collecting experiences as oral histories, which were gathered by art historian Martha Sesin in collaboration with The Wolfsonian Public Humanities Lab (WPHL), FIU's hub for the humanities. Their testimonies became a key part of the ongoing series, reflecting the community that Anasagasti has built on Instagram and Discord—where art, collecting, and Miami are at the heart of conversation—and embracing the philosophy of openness and accessibility that underpins Anasagasti's practice.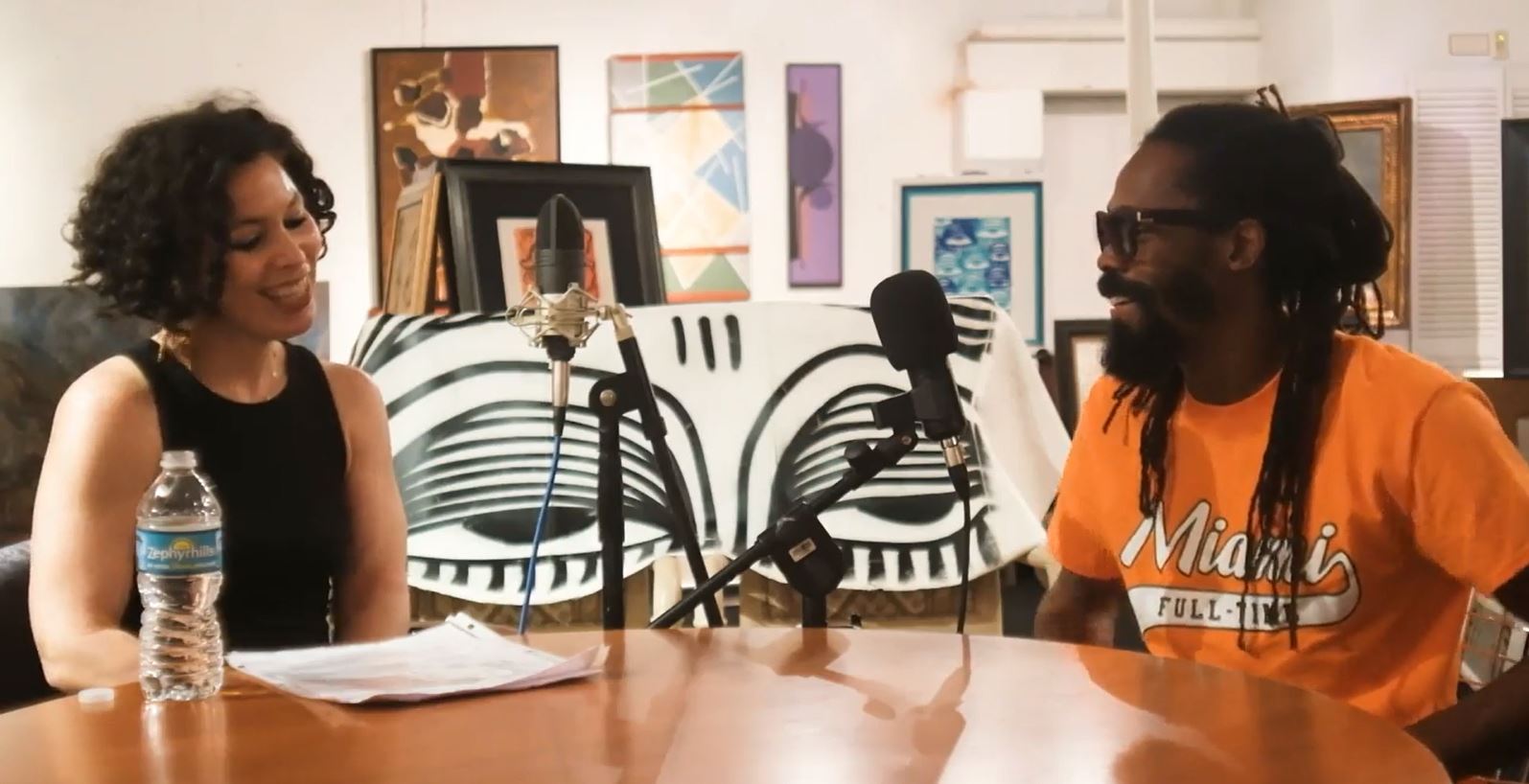 Collector Terrance Cribbs-Lárront recounts the excitement he felt at hunting down his first art "acquisition" after a few unsuccessful attempts. "The hubcap was four or five blocks by the Adrienne Arsht Center, and I run out of this thrift store. I drop what I had on the floor . . . . I make it, and I just start screaming and holding up this hubcap. The construction workers that are there are looking at me and cheering. And I was so excited, and I posted it, and he [Anasagasti] posted, and suddenly I was one of those people who had gotten his work in a few seconds." Cribbs-Lárront's interview, as well as the other collectors' oral histories, have been posted in full on FIU Digital Commons.
This storytelling side to Geographies of Trash—a new layer to Anasagasti's project—dovetails with the WPHL mission to remove barriers between academic, public, and civic life. Just one of many of its community and artistic partnerships focusing on oral histories, Geographies of Trash gives voice to regular citizens and their experiences, highlighting the relationships between art and environmental justice.
For The Wolfsonian's iteration in May 2022, Geographies of Trash evolved into a takeover of museum spaces, upending expectations about what a traditional institution displays and promotes within—and without—its walls. The project was a true partnership and meeting of the minds between The Wolfsonian, the artist, Ratcliffe Art + Design Incubator (where Anasagasti is currently an artist/entrepreneur-in-residence), and WPHL, and it was timed to coincide with Miami Beach's climate-change-themed, future-forward Aspen Ideas: Climate 2022 program.


The Wolfsonian lobby housed 41 loaned art objects from 14 collectors. For 3 days, visitors could find chairs, a vintage Pepsi cooler, wooden pallets, cinder blocks, garbage can lids, and other items—all tagged by Anasagasti—spread throughout the ground-floor space. Pieces were placed in clusters around the room, challenging conventional exhibition practices and confronting visitors with art at every turn. Anasagasti also activated the museum's 1939 Bridge Tender House (a historic, streetside structure dedicated in 2022 as the Josephine Baker Pavilion) by wrapping it in clear vinyl featuring his signature "sleepy" eye, a process documented by Bailout Media Co. and Gianluca Abate. Both experiences were free for all to enjoy, echoing Anasagasti's ideals about art accessibility.
Members of the public also had the chance to engage directly with the artist and his work. In a May 13 panel, Trash Talk, more than 40 attendees gathered to investigate the project's themes—sustainability, art, and technology. Featured speakers included Anasagasti, Ratcliffe Art + Design Incubator executive director Jacek Kolasinski, Miami-Dade County head of climate tech and economic innovation Galen Treuer, and Museum of Graffiti co-founder Alan Ket. Those in the audience asked their pressing questions about art and environmental stewardship, and the exchange touched on timely subjects and issues as wide-ranging as WiFi access in under-resourced neighborhoods, the sustainability of Miami's tech boom, and the hot-button topic of the day: NFTs.
Geographies of Trash raised questions about the nature of art practice, art collection, the environment, Miami's landscape, and, of course, the meaning and impact of global art fairs as gatekeepers of contemporary art. The project served to create and connect—all while clearing the streets of garbage.
Get your own Ahols Sniffs Glue merch! Visit The Wolfsonian Design Store + Coffee Bar or call 305.535.2680 to purchase limited-edition T-shirts, signed baseball caps, and signed prints of Anasagasti's wrapping of the Bridge Tender House accompanied by a one-of-a-kind piece of vinyl taken directly from the installation.