October 10, 2023

By Shawbeta Seal, Graduate Interpretation Assistant
Halloween is creeping around the corner! In honor of everyone's favorite haunting holiday, we invite you on a hair-raising adventure delving deep into the realms of ghosts, spirits, and all things eerie. Lurking within our vast collection of art and artifacts are mysterious works and uncanny scenes that will send shivers down your spine—so we've pulled a few favorites to mark the occasion. Read on as we explore three hand-picked paintings from our collection that (in our opinion) best embody the spirit of the spooky season.
Deathly Encounters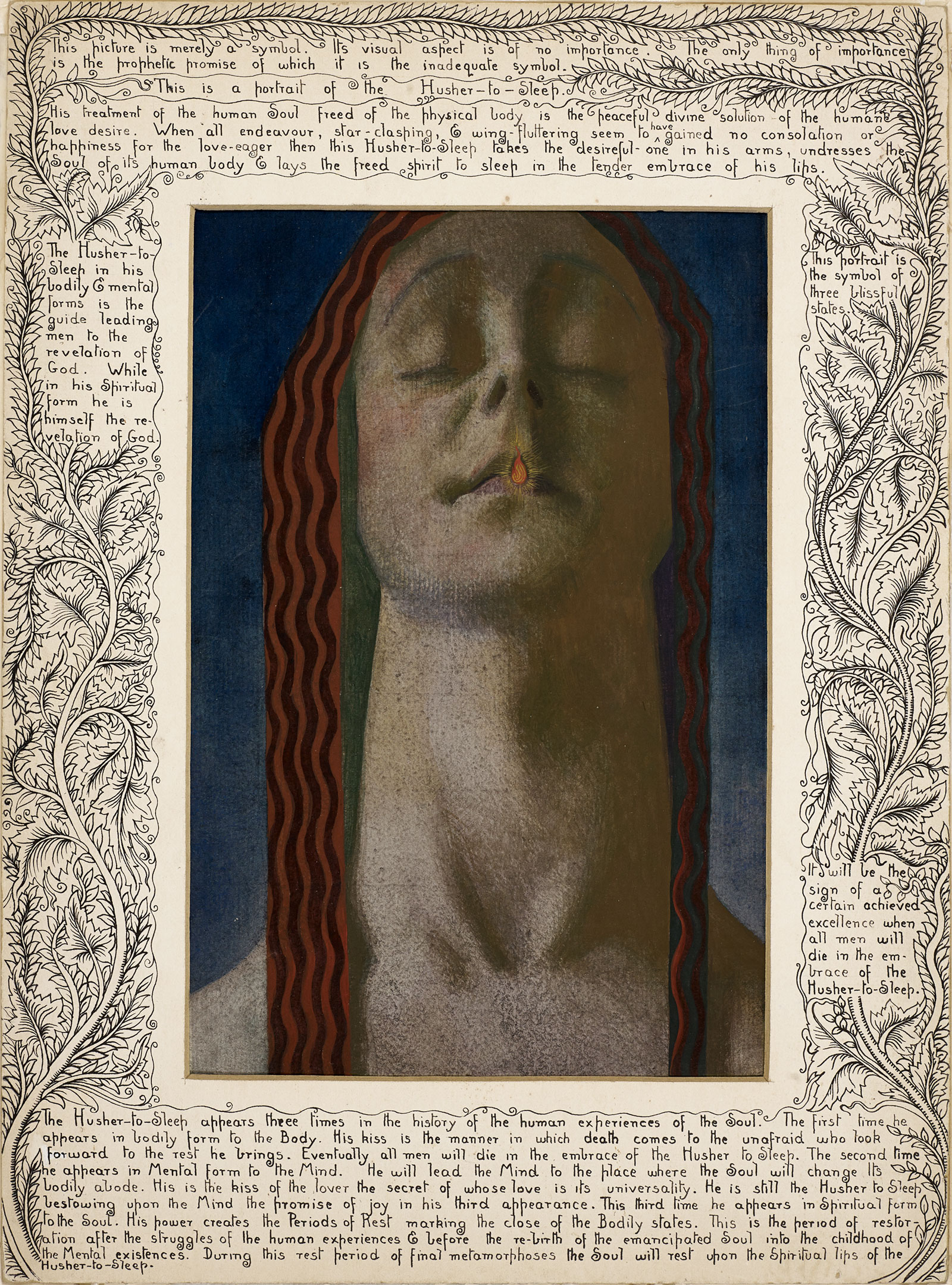 Down the corridors of our museum's collection, a curious object awaits. Depicting a seemingly asleep figure with a long neck, stylized hair, and a flame at his lips, British artist Vernon Hill's Husher-to-Sleep (c. 1912) is an unsettling work that centers a symbol of bodily and spiritual transformation. The hand-calligraphed text decorating the portrait on paper's unusual mat frame offers a chilling, cryptic narrative about metaphysical journeys, rebirth, and the mysteries between life and death. Here, Husher-to-Sleep extends an invitation to those disheartened and longing for love, promising solace through eternal slumber.
Hill's doctrine outlines three states hinting at an uneasy destiny for those captivated by its spell, yet it also points toward the Husher-to-Sleep's ultimately peaceful "prophetic promise"—in death, there can be revelation. But beware, for his kiss is as cold as the grave itself.
Shocking Sight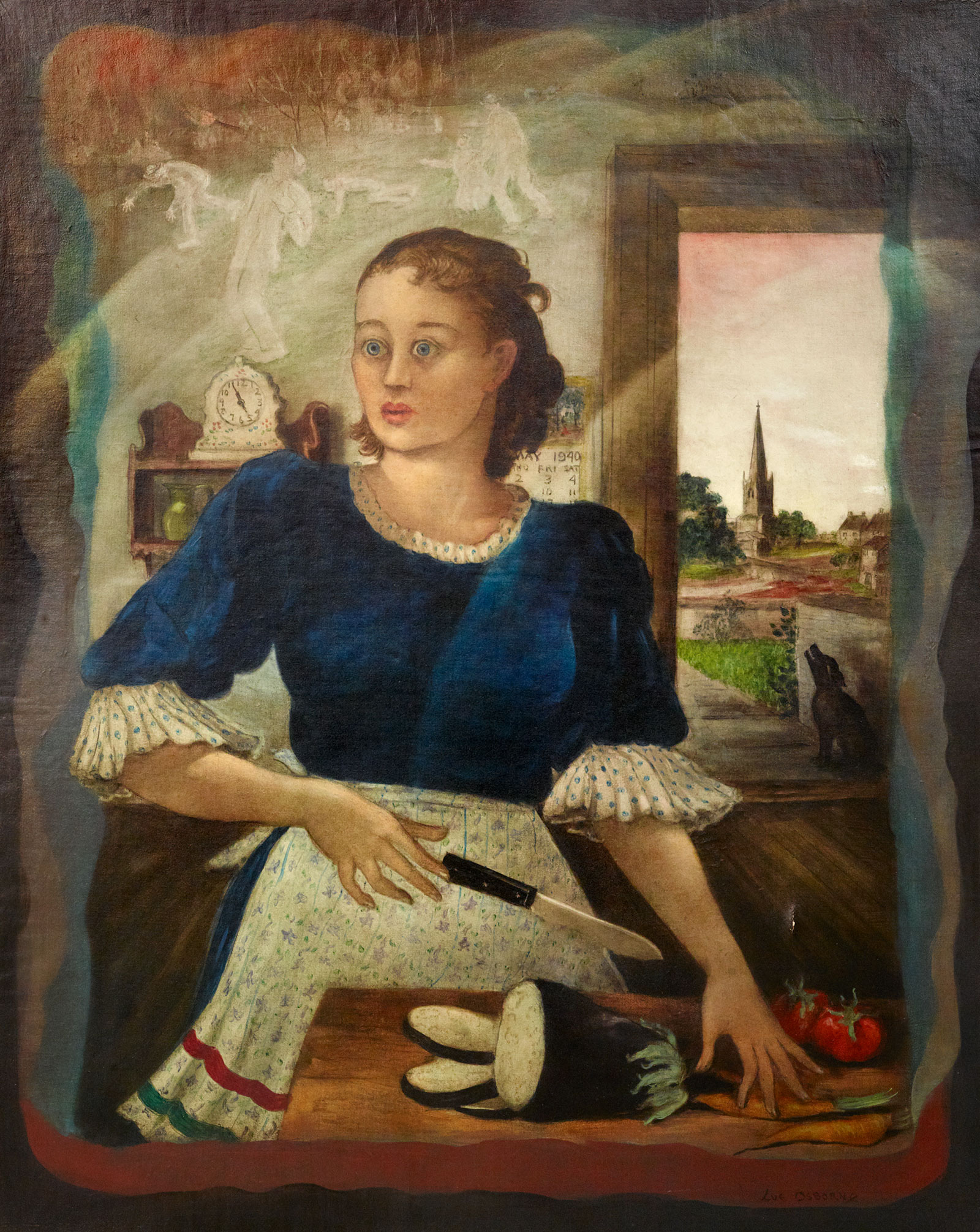 At first glance, May-40 by artist Lue Osborne appears innocuous—a woman in an apron is shown engaged in the mundane act of cutting an eggplant. Yet, as one looks closer, a sense of alarm emerges. Ghost-like figures of the dying and wounded hover ominously over her head, inspiring a startled expression and causing her to drop her paring knife, while a dog howls in the background.
The calendar behind the woman and the work's title, May-40, clue us into what has spooked her. In May 1940, Adolf Hitler massively expanded the scale of the Second World War when German troops overran Belgium, the Netherlands, Luxembourg, and France in just six weeks. Through some means, telepathy or perhaps just a radio broadcast, the subject of Osborne's scene has had a vision of soldiers on the battlefields of Western Europe, and perhaps a premonition of the years of suffering to come. Likely executed not long after this watershed historical event, the synthetic resin-on-cloth painting is a powerful reminder of threat, dread, and loss in the human experience.
Origin of the Otherworldly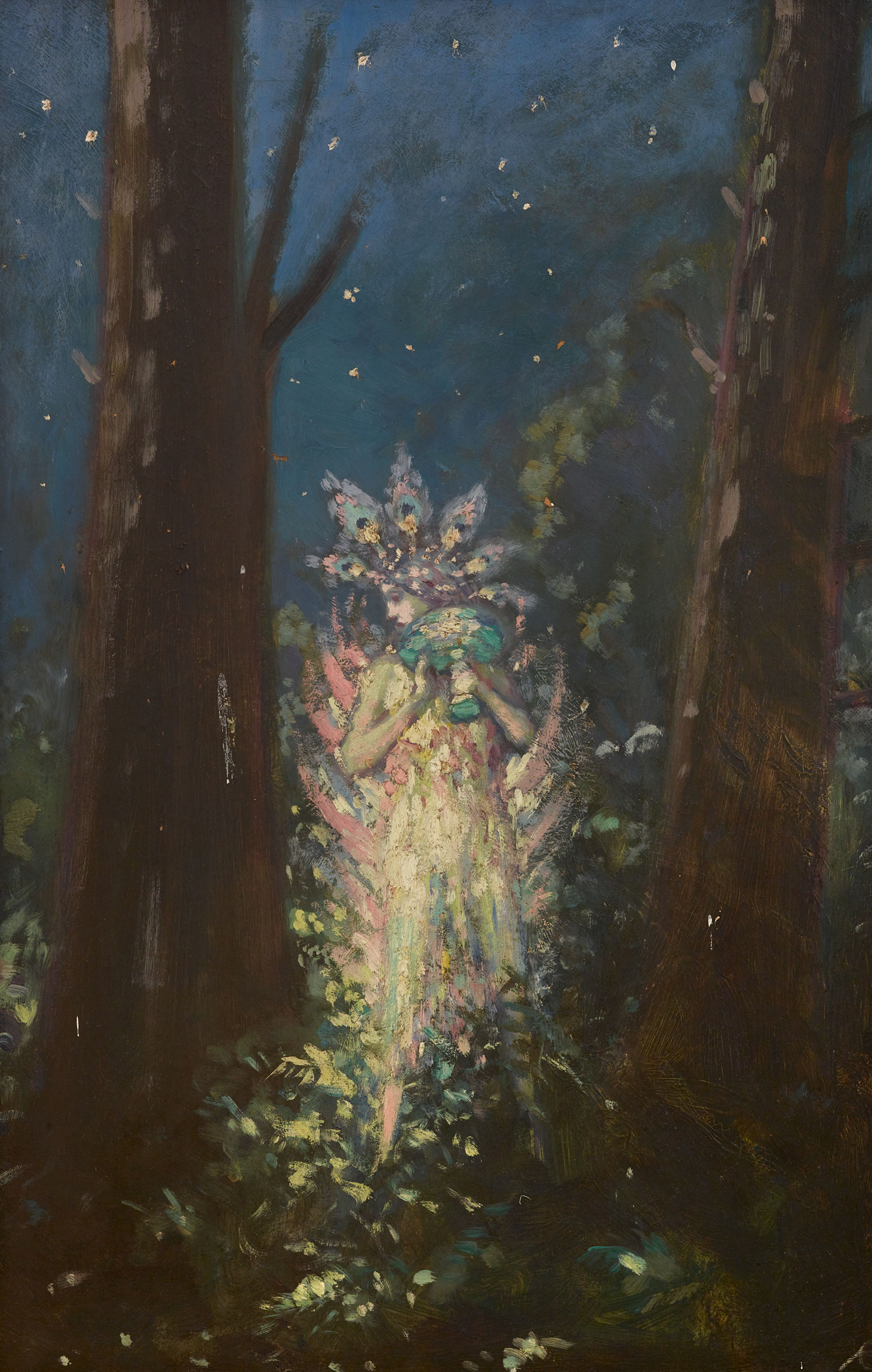 Spirit of the Woods, an oil on canvas from the turn of the century, transports us into the heart of one of Ireland's most ancient legends—the world of the aos sí. These ethereal, fairy-like spirits, embodying both benevolent and malevolent aspects of magic, were believed to have emerged from the otherworld through sidhe, or burial mounds. Within this piece, the aos sí's transcendental allure comes to life in a depiction of a spirit gently clasping a radiant blue mushroom in a forest, its figure casting a delicate glow between the ancient trees.
Adding a layer of fascination to this painting is the artist's personal connection to the mystical and supernatural. From a young age, George Russell (most often known as Æ) reported experiencing visions, particularly encounters with nature spirits. He claimed to have seen and communed with these spirits, including the aos sí.
For more shadowy, scary stories from the collection and beyond, join us, if you dare, for Howl-O-Ween at The Wolf—A Day of Dreadful Fun, 2–5pm on Sunday, October 22. Featuring live music, a reading of Edgar Allan Poe poetry, and Halloween treats, this afternoon of devious delight will lead into the perfect evening experience that will linger in your nightmares: a 5:30pm screening of 1920's The Cabinet of Dr. Caligari, across the street at O Cinema South Beach.
Happy Halloween from all of us at The Wolfsonian, where the macabre meets the magnificent.