August 25, 2023
By Frank Luca, chief librarian + curator of library collections

Born in the small mining town of Castleford, England, the gifted artist Albert Wainwright (1893–1943) did not win the same international renown as many of his schoolmates at the Leeds College of Art. But within the theater arts scene in the cities of Leeds and Wakefield in West Yorkshire, Wainwright's legacy lives on in the surviving sketches of costumes and theatrical sets that he produced for the local stage.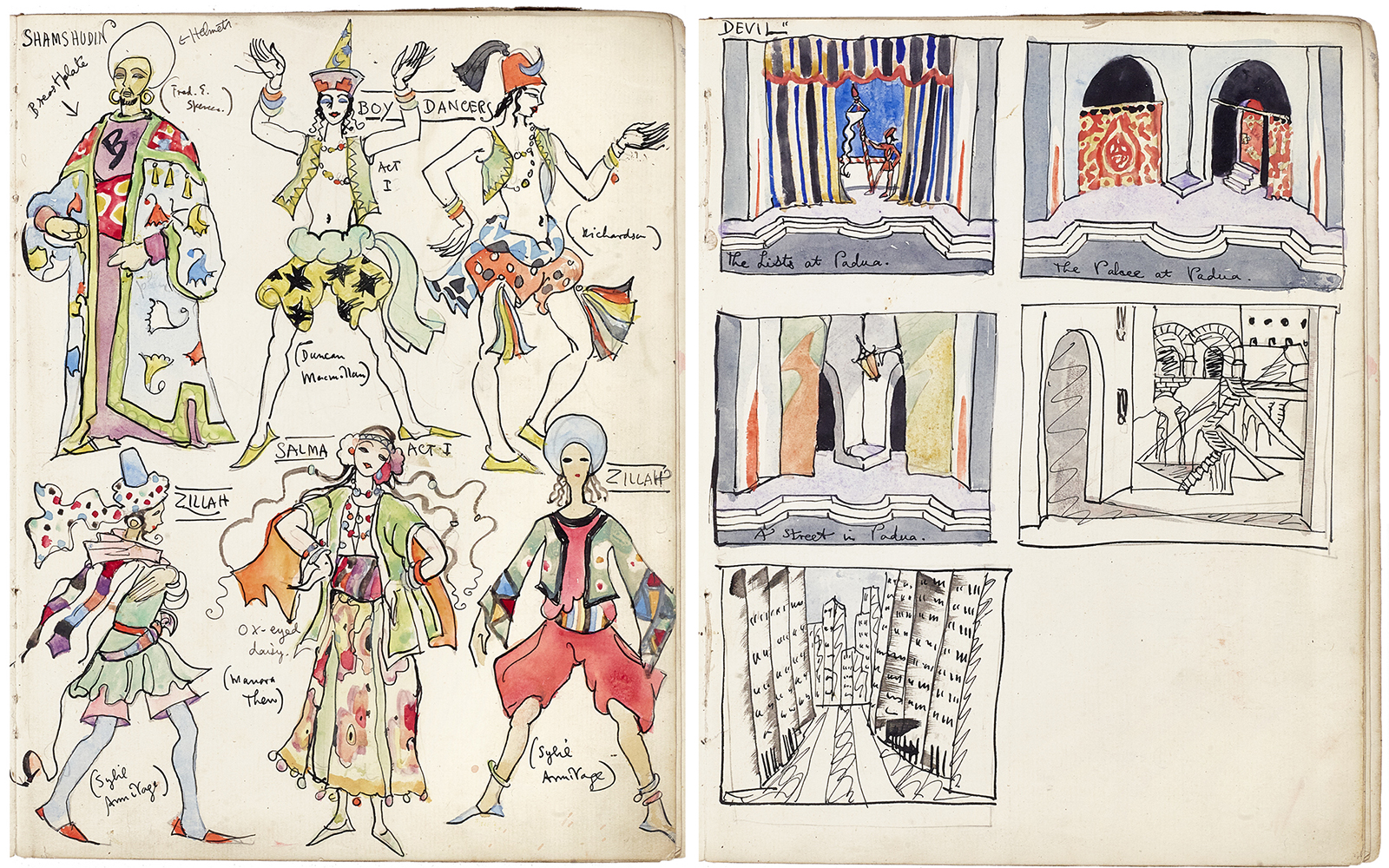 The works came to The Wolfsonian's collection in the late 1990s, several years after museum founder Mitchell "Micky" Wolfson, Jr., purchased them from the estate of the artist's sister. A selection from this gift will be featured in All the World's a Stage: The Sketchbooks and Theatrical Designs of Albert Wainwright, an installation opening soon in our rare book and special collections library.
Wainwright's original costumes and sets were inspired by his personal acquaintances, his fertile imagination, and his travels. The artist frequently sketched and painted watercolor portraits of actors and performers he knew, and he regularly spent his summers in the coastal village of Robin Hood's Bay in North Yorkshire, depicting many of the locals, buildings, and landscapes in his renderings. But the artist also loved to cross the English Channel, and he drew inspiration from his excursions on the European continent.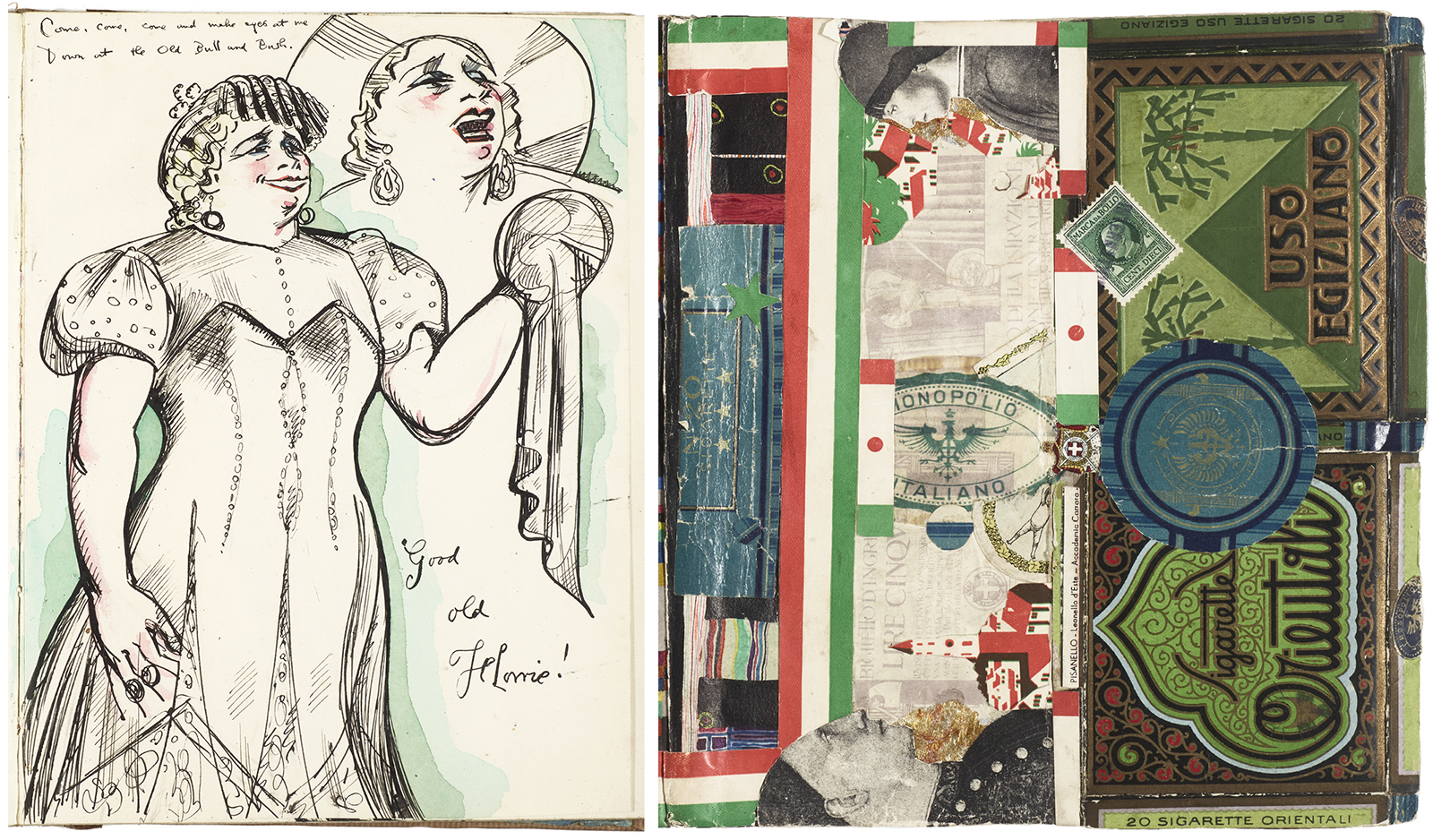 In the 1930s, Wainwright made the obligatory "grand tour" of Italy. He creatively decorated the cover of his Italian sketchbook with a collage of memorabilia from his travels, including everything from wine labels, postage stamps, ticket stubs, stickers, and magazine clippings. Among his many sketches and watercolors of the street scenes and structures of Milan and Venice—including, unsurprisingly, their famous piazzas, bridges, and canals—Wainwright often focused on more ordinary buildings as if to suggest their potential for painted theatrical backdrops.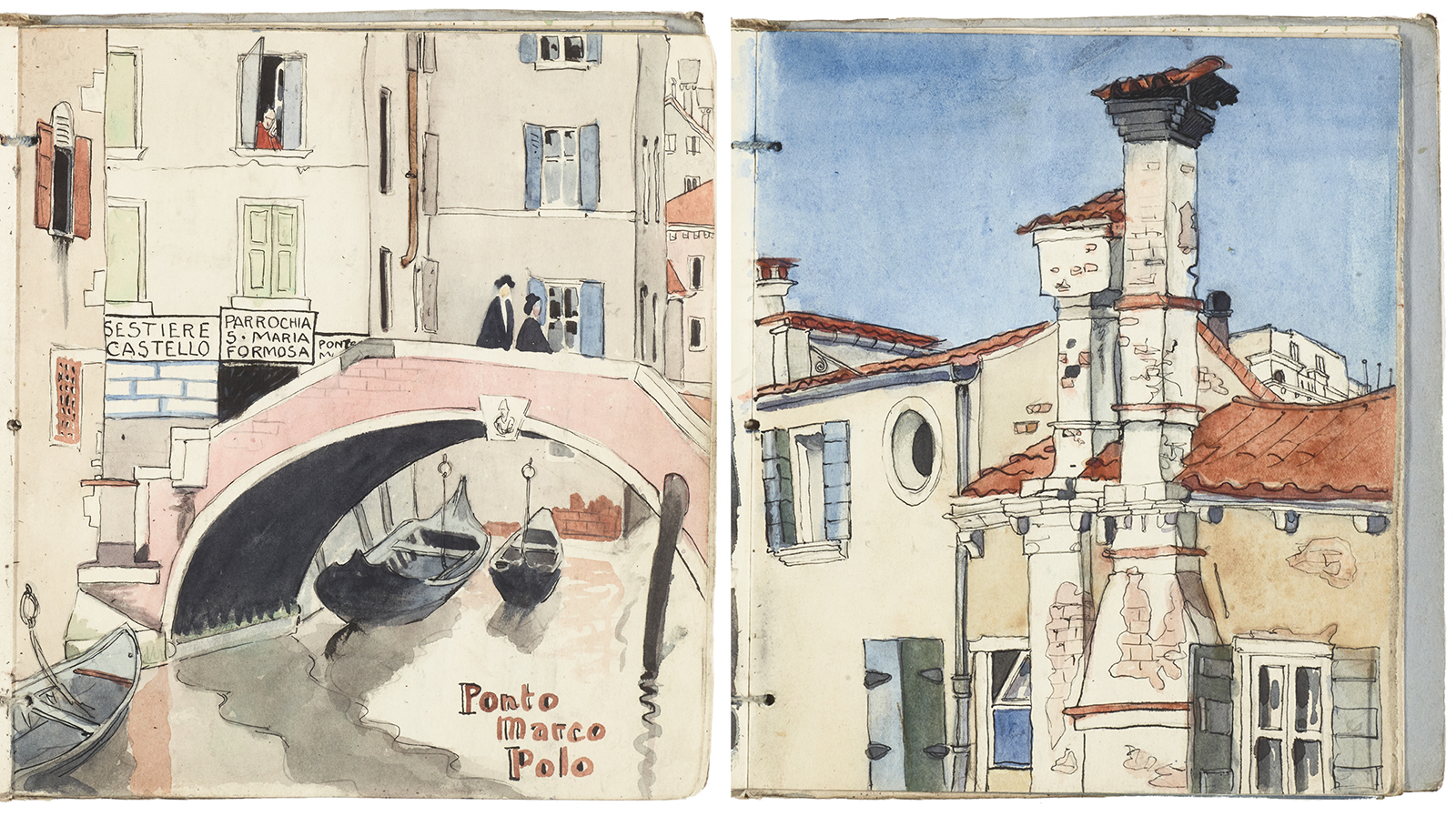 Wainwright also paid attention to each city's inhabitants. Ever on the lookout for costume ideas, he employed his pen and brush to capture the nuances of clothing worn by altar and choir boys, as well as the uniforms of sailors, carabinieri, and Balillas (an Italian Fascist youth organization established by Benito Mussolini). Other sketches depict some of the more picturesque locals, all easily imagined as costumed characters in a play.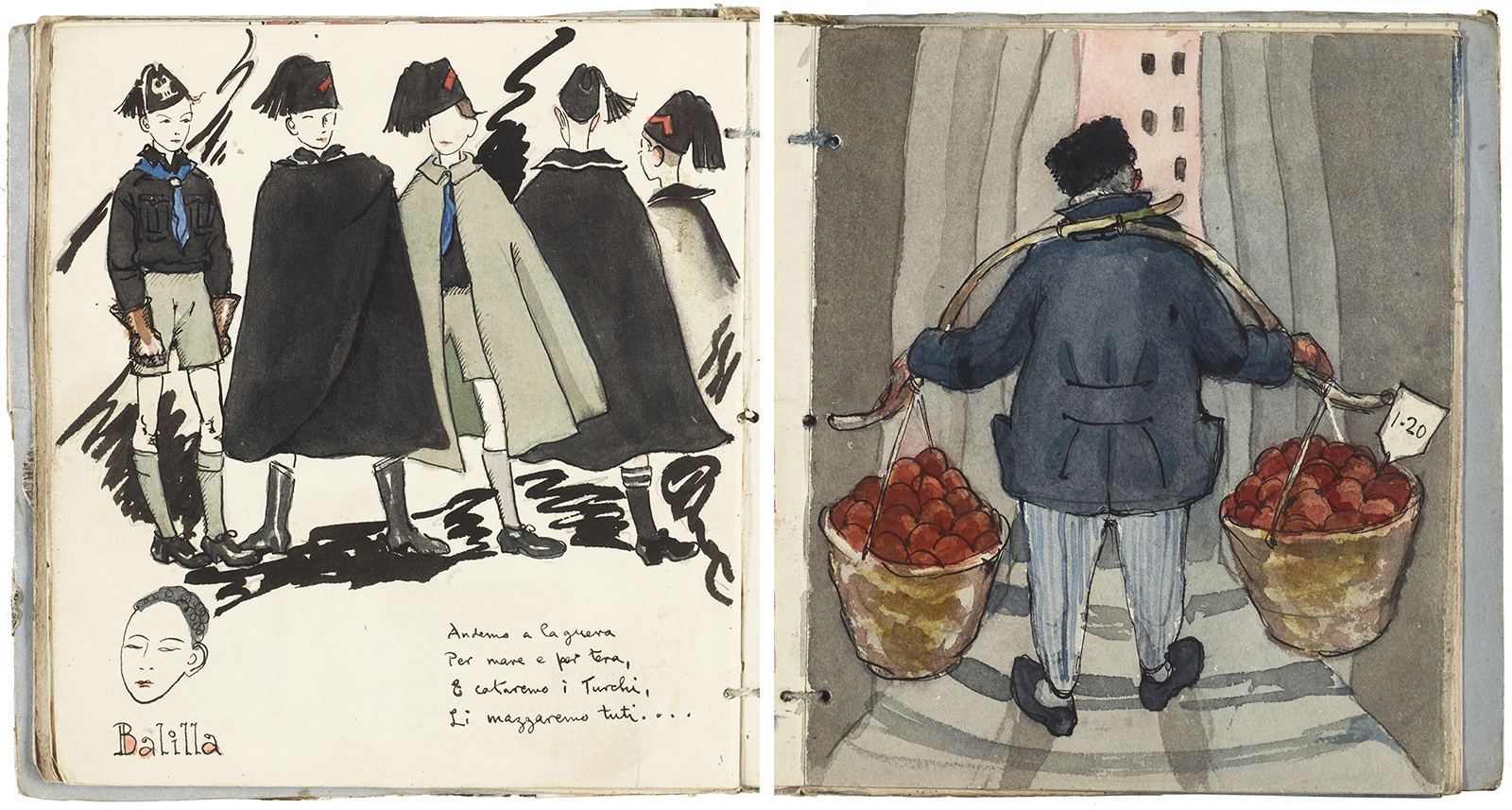 The artist exhibited this same interest in everyday life in other regions of Europe. He traveled most frequently to Germany during the late 1920s through the '30s, always recording his visits with watercolor renderings, snatches of musical notation, and written descriptions of his impressions of cities, towns, and people he encountered. Wainwright frequently convinced locals to pose as models—illustrating every detail of their clothes and immediate surroundings—and he took inspiration for costumes and theater backdrops from the ethnic and regional clothing, customs, styles, and landscapes he observed.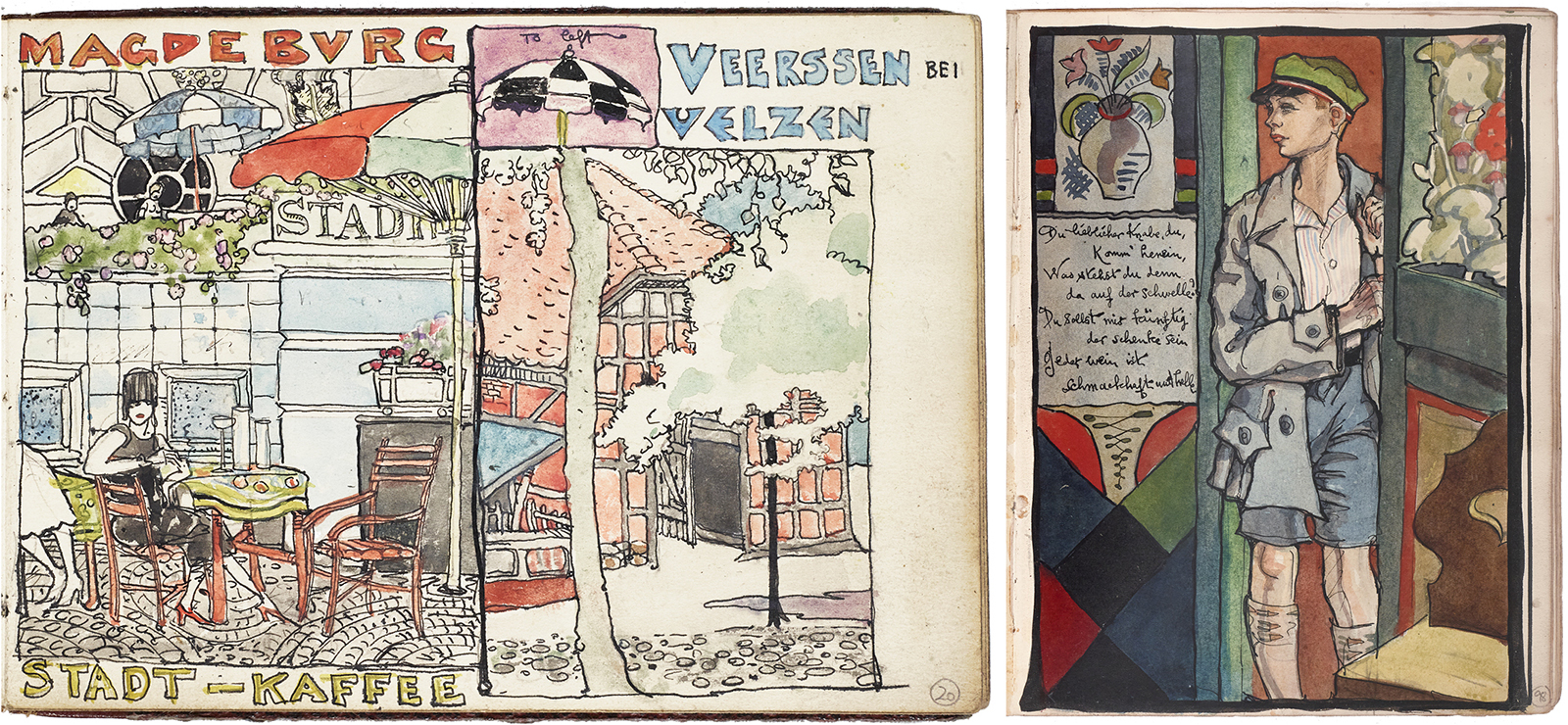 Wainwright was especially fascinated by developments in Germany in the tumultuous years of the late 1920s and '30s. His watercolors contrast the uninhibited cabaret life and ethos of the '20s with the suffocating rise of the National Socialists and their disciplined and regimented Hitler Youth, whom he depicted marching under the gathering clouds of impending war, in the late '30s.
These examples are just a few of the more than two dozen works on display (some completely digitized to allow page-by-page perusal) in All the World's a Stage. Charting one man's journeys, and reflecting how he applied modern style to a provincial theater scene, our collection of Albert Wainwright sketchbooks and stage designs are unique artifacts of time, place, culture, and personality. See the installation in The Wolfsonian Library between September 13 and December 10, 2023.