February 14, 2022 (Valentine's Day)

By Erin Heffron, library collections specialist, and Shoshana Resnikoff, curator

If you find yourself overwhelmed by options in the drug store's greeting card aisle this February 14, you can thank mid-19th-century advances in printing techniques for your troubles. Valentine's Day has long been celebrated in some form or another—whether as a religious feast day or an opportunity to exchange hand-written love notes—however it wasn't until the 1800s that innovations in color printing technology combined with Victorian sentimentalism to spark a full-blown card extravaganza. Our collection's artifacts of adoration, from its paper valentines to portrayals of passion in fine art, are testaments to the holiday's growth into the commercial lovefest we know today. For a meaningful message they won't soon forget, consider trying out one of these images with your friends and loved ones this season.
For Aspiring Authors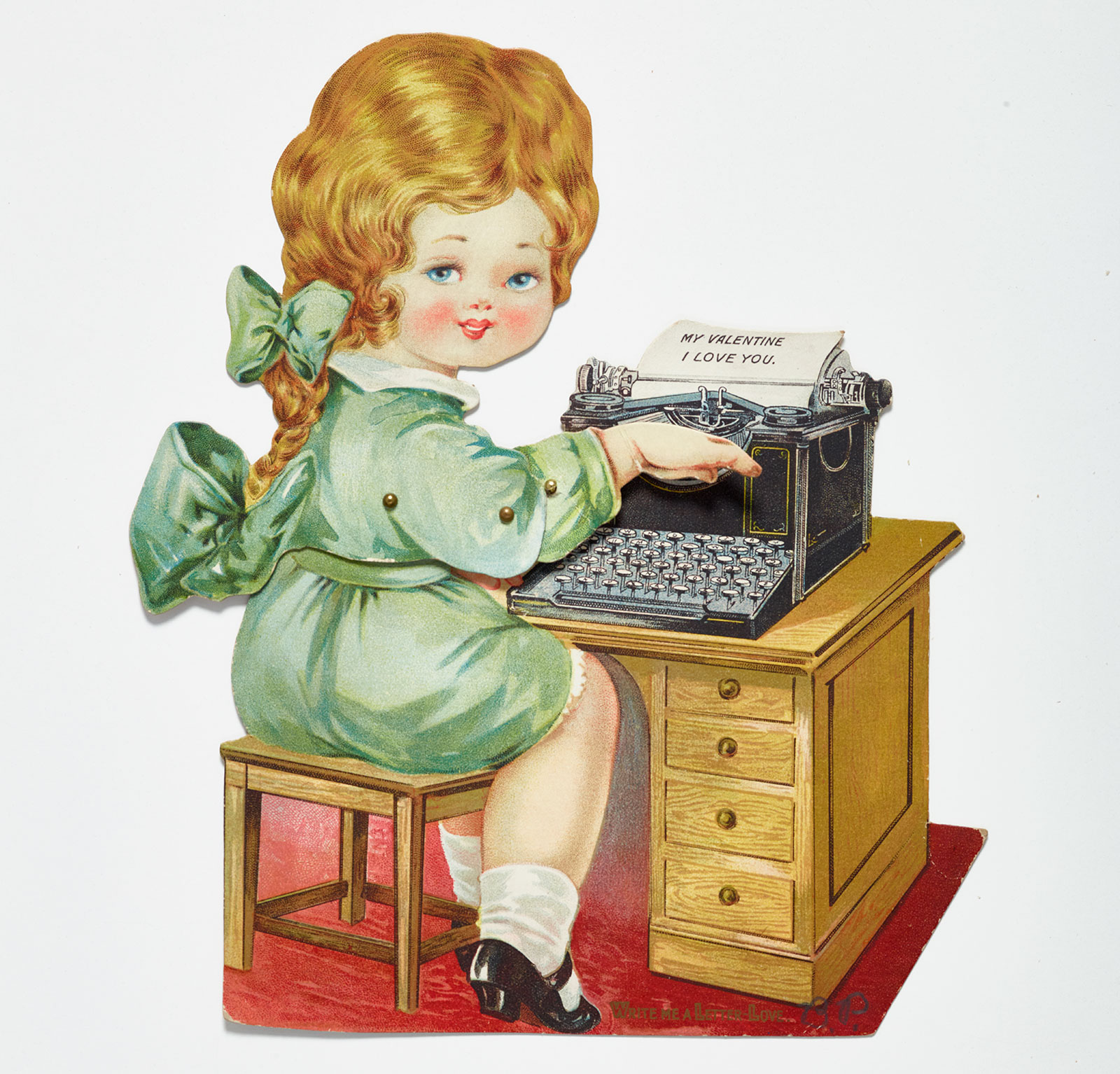 Printed by Gabriel & Sons prior to 1920, this kinetic card could soothe the wild emotions of any frustrated writer. You can even demonstrate typing by moving the young woman's arm (clearly the cure for writer's block is actively writing!). Your valentine will practically hear the furious click-clack of the typewriter, though it is possible that the sweet message "My Valentine, I Love You," however short, will send them into a spiral of jealousy—after all, if this two-dimensional printed girl can manage five words, why can't they churn out their magnum opus?
For "Are We Friendly or Flirty?" Situations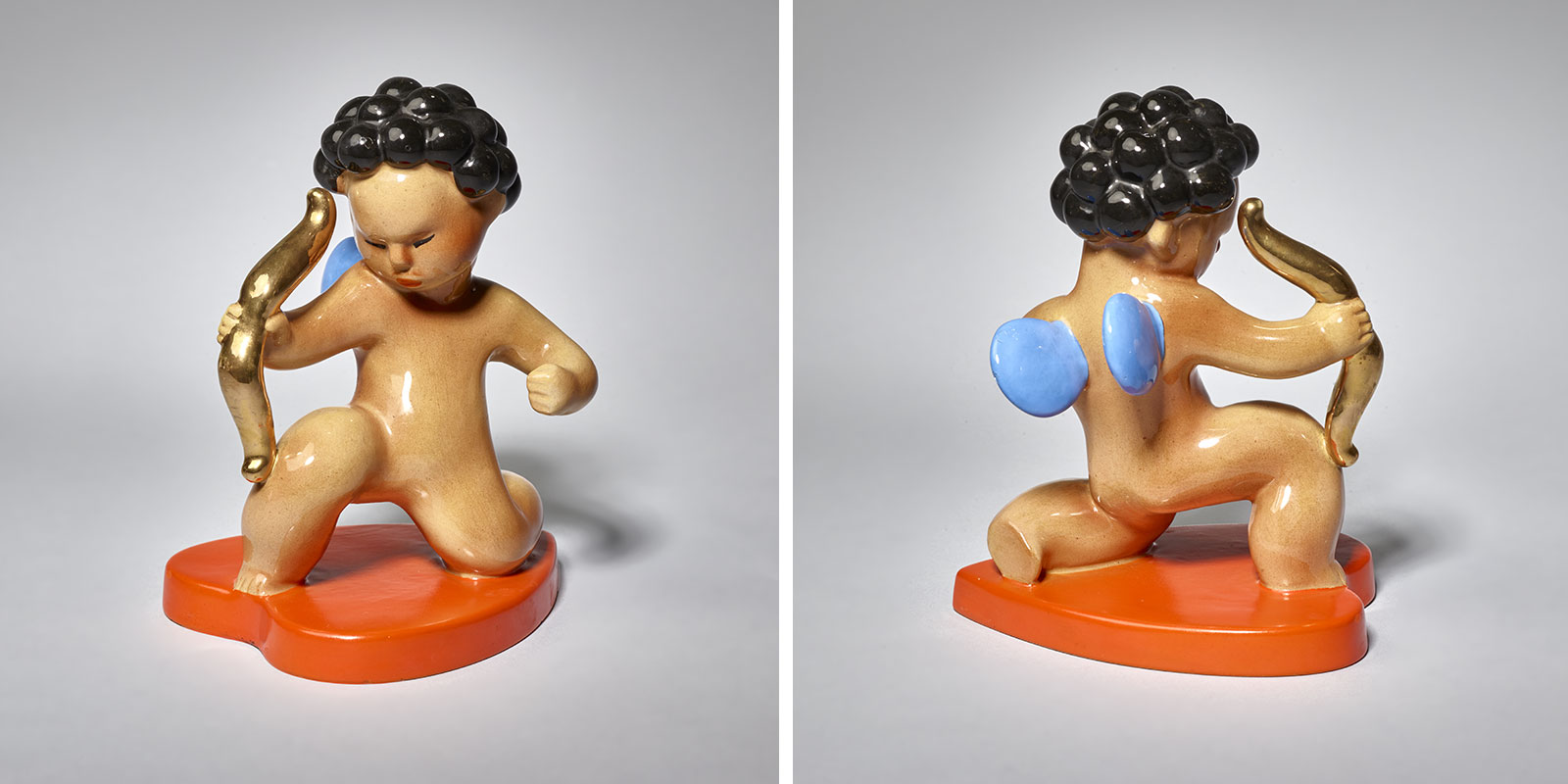 The putto is a figure in Italian art with a long and complex history. In classical art, putti were spirits who could exert influence on the human realm, and during the Renaissance they became mixed up with angels to reflect the sacred love of God. Putto, angel, cupid—these terms are changeable across artforms and time periods. That makes this small glazed ceramic figurine, produced by the Italian firm Rometti in the 1930s, an ideal gift for an ambiguous relationship: if you think you're both on the same page romantically, this putto is a cupid. But if it turns out you're just friends, then—surprise!—it represents the omniscience of a higher power. Just be sure to cover up the heart base, in the latter case; you don't want to give your valentine the right wrong idea.
For That Cutie You Met at a Protest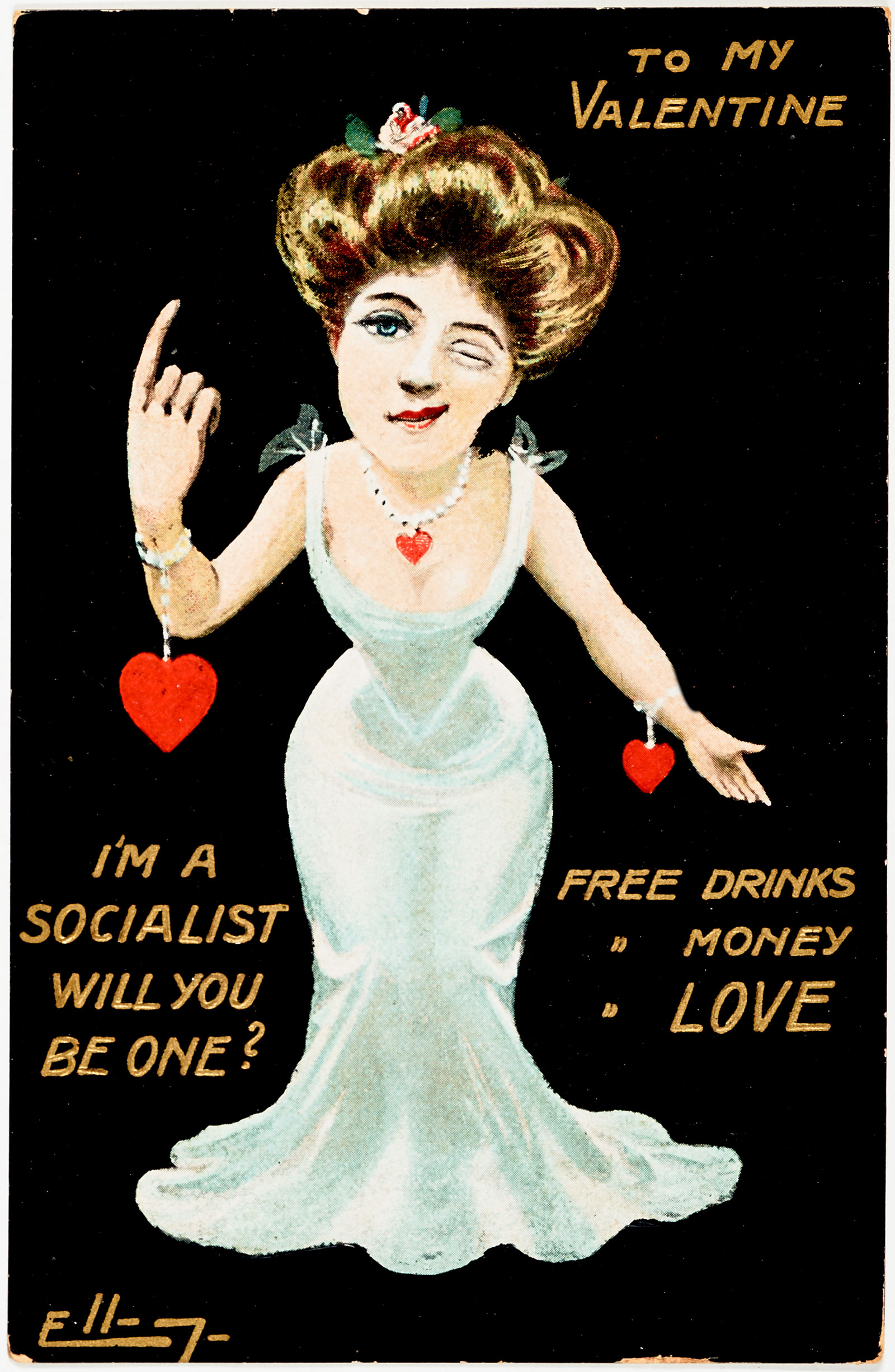 Is this card a mean-spirited and satirical response to socialism and feminism in the early 20th century? Most likely! But obviously you want a date who has a sense of humor. Anti-feminist and anti-socialist cartoonists in Great Britain and the United States regularly lampooned both movements' goals, and this postcard features a common lament: that giving women rights might lead to "free drinks, free money, free love." It's hard to imagine a campaign better positioned to backfire, but this particular postcard also includes a specific hook: "I'm a socialist, will you be one?" It's sure to be a slam dunk with your valentine—assuming, of course, you already know their politics.
For Crushes Crushing It at the Gym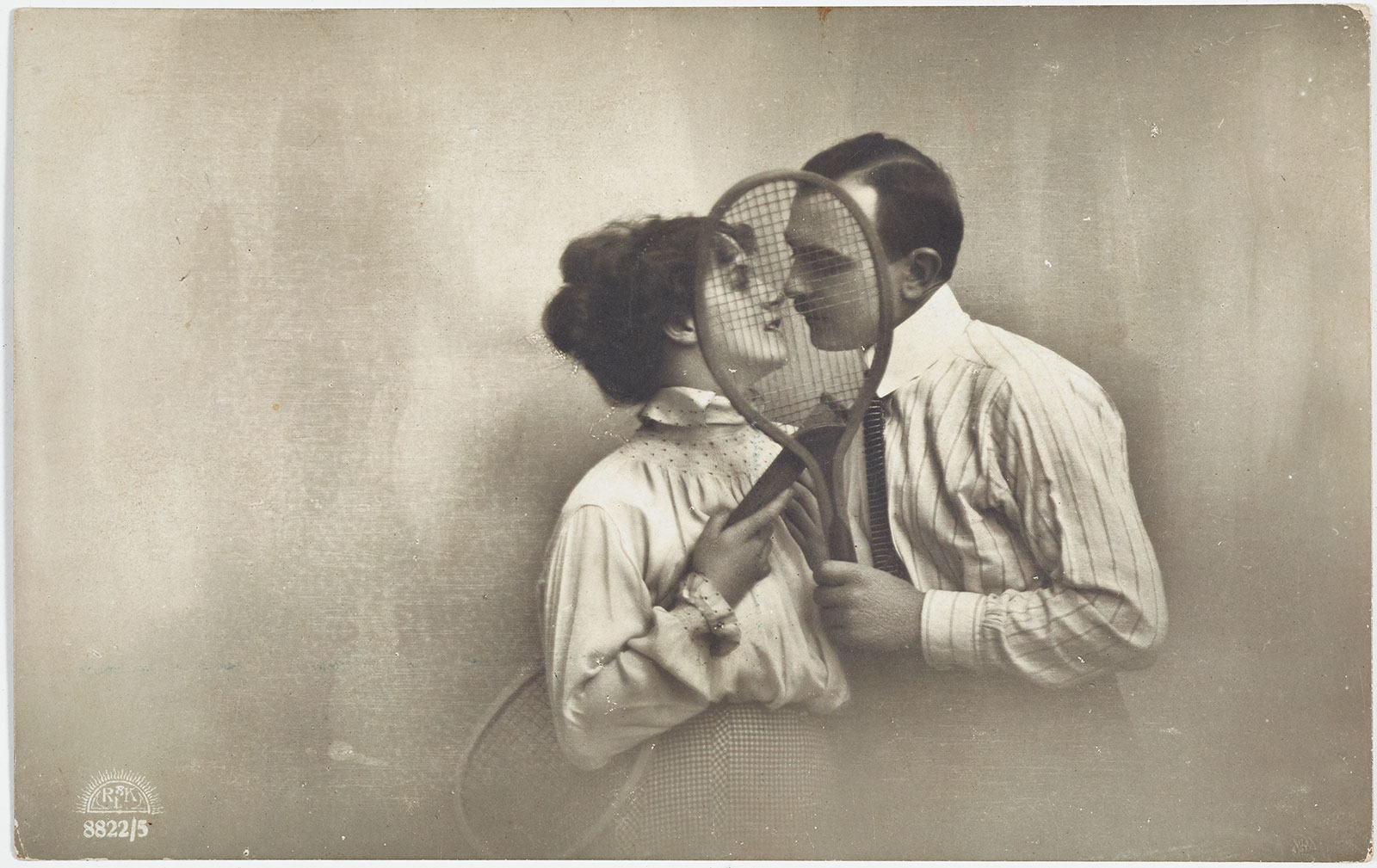 If your heartthrob is in a committed relationship with the tennis court, consider using this postcard to propose some one-on-one time of your own. Tennis, which evolved from a monastic pursuit in the 12th century, transformed at the turn of the 20th into a fashionable outdoor lawn game and sport popular among upper-class women in Europe and the United States. Here, a couple embraces behind a racket—a reminder, perhaps, that even if "love" is a score of zero in tennis, it's still a game worth playing.
For Sweet Songbirds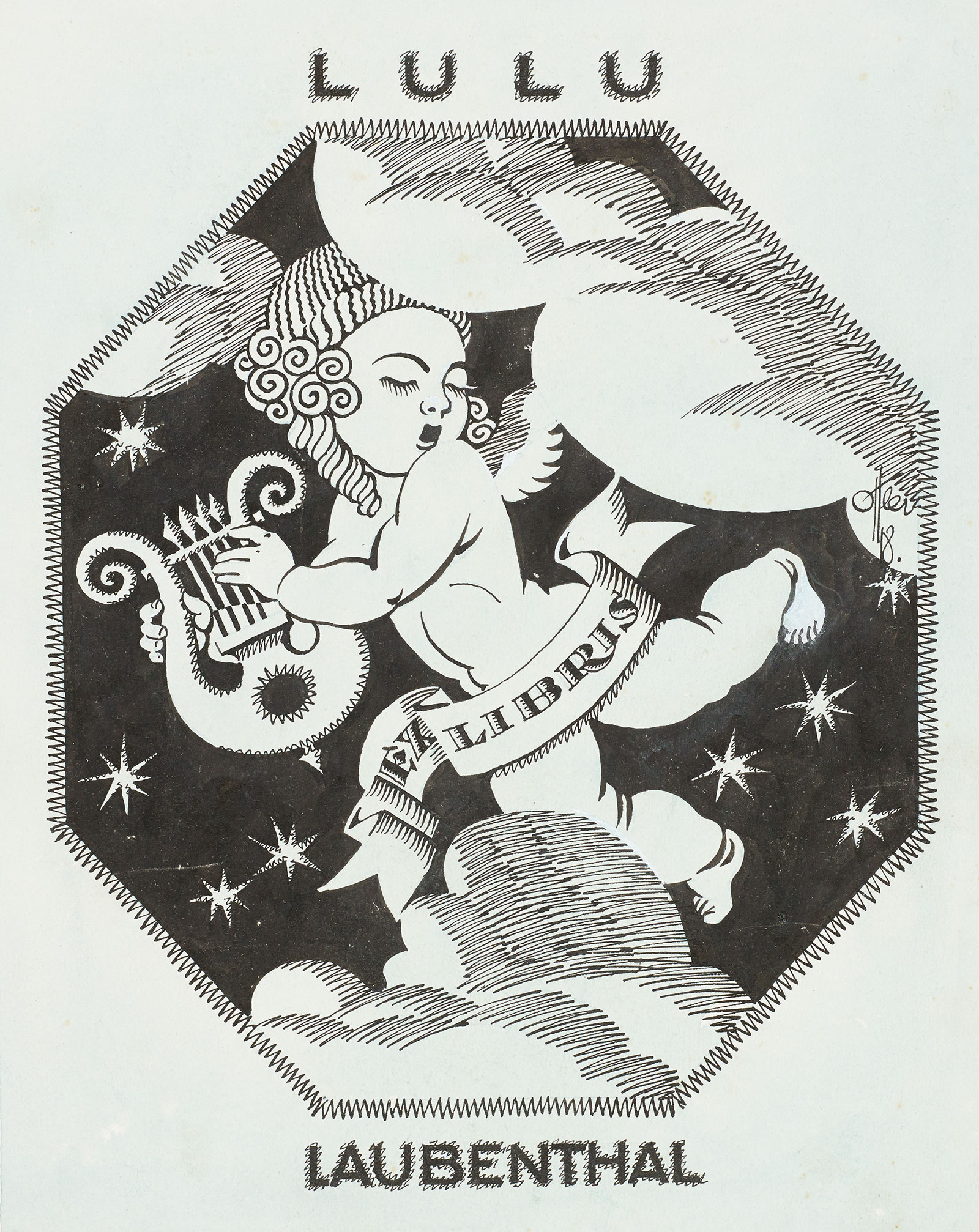 This book plate, designed by German artist Otto Ottler, would make a great gift for the musically inclined. Here, the putto is armed with a harp and has opened its mouth to belt out some classics—perhaps opera, as this Ex Libris print was made for Lulu Laubenthal, a celebrated opera singer in the 1920s. Perhaps you can serenade your paramour as they unwrap their gift; or if singing isn't your forte, promise to keep quiet and let the book plate make the noise.
For Long-Distance Lovers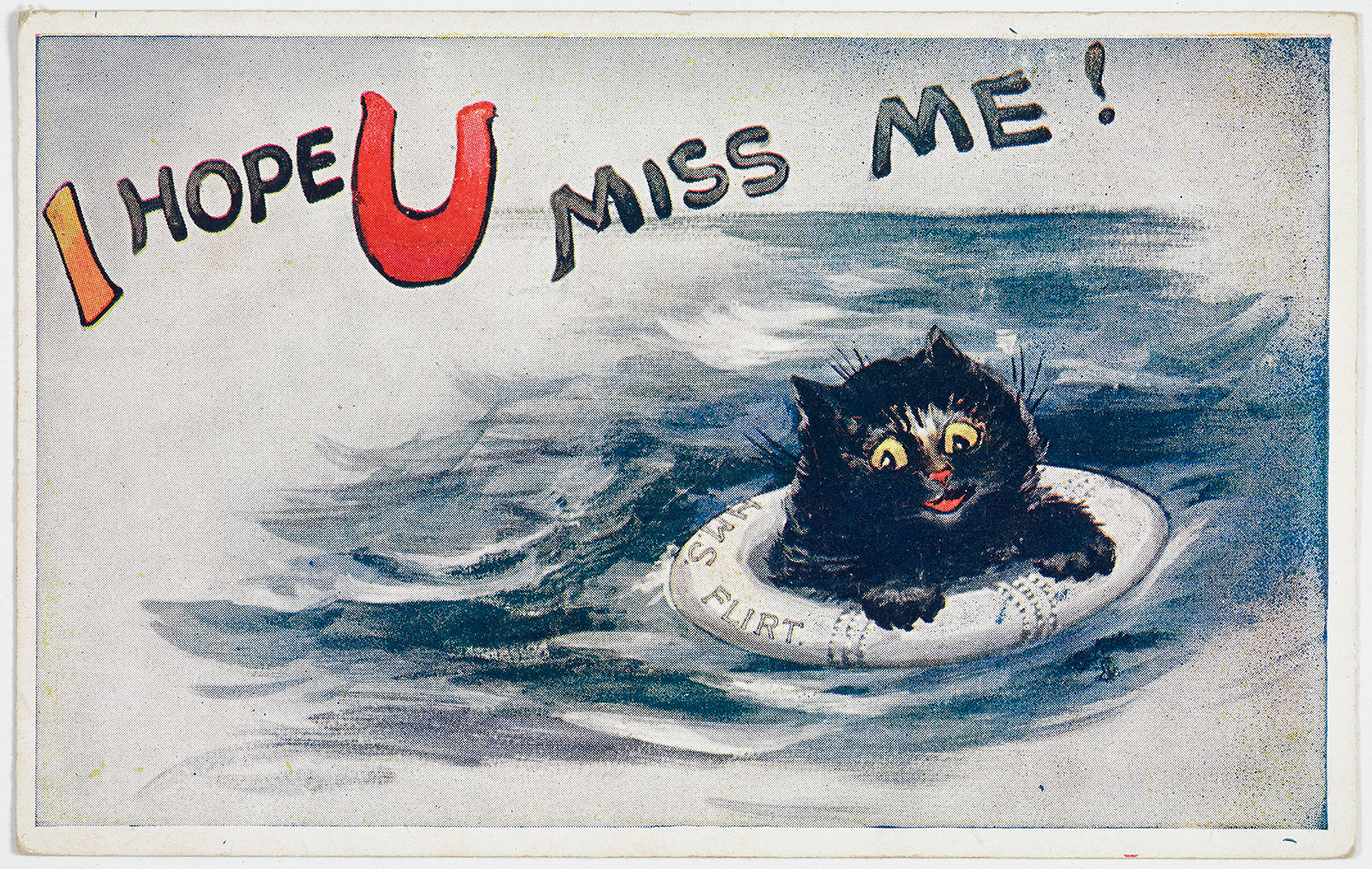 What could be more compelling than this nearly-drowned cat's terrified eyes as it pleads, "I hope u miss me!" The truly confounding image was produced by Raphael Tuck & Sons, a pioneering company that was a major player in Great Britain's postcard boom in the late 19th and early 20th centuries. Tuck employed graphic designers and illustrators but also partnered with known artists, including Louis Wain, an eccentric British artist known for his madcap pictures of cats. While Wain published hundreds of postcards with Tuck, it is not known if this is one of them. Either way, though, this particularly frenzied-looking cat reflects the impact that Wain had on British illustration at the turn of the century—and it's a purrfect reminder of your feelings for a dreamboat across the ocean.
For Enlisted Darlings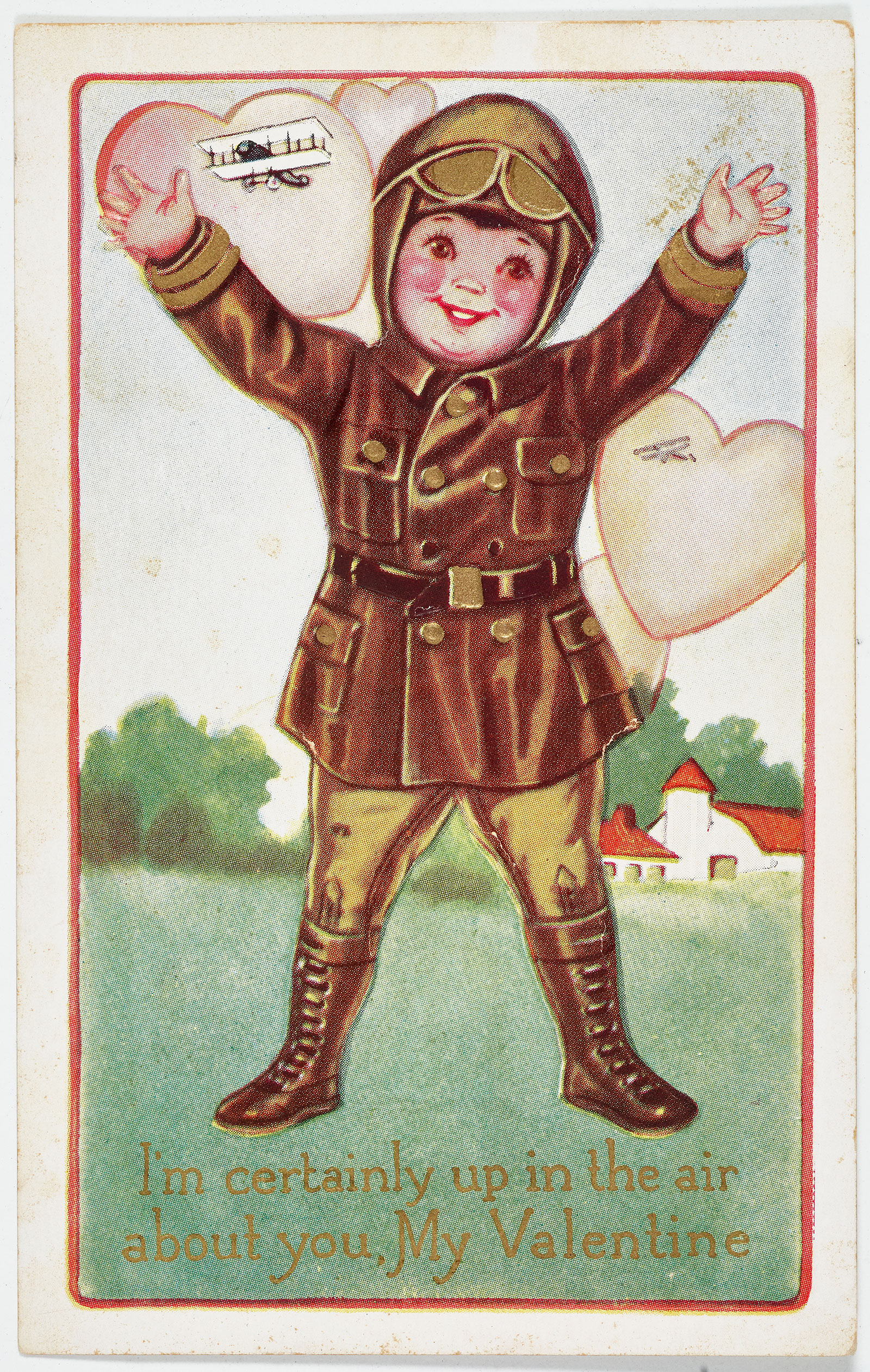 Nearly a decade after the modern airplane debuted, the United States entered World War I and formed an aviation combat force, the first large-scale use of aircraft in a major conflict. Amid the violent fighting, there were still cupids daring enough to deliver love notes to and from the trenches. Postcards like this offered a soldier a sweet respite from the brutalities of war, celebrating instead the exuberance of love and flight, which was still a relatively new pursuit. Here, a youthful pilot lifts his arms to the sky as though his heart is soaring like a plane above the clouds and declares, "I'm certainly up in the air about you, My Valentine." What better way to affirm the strength of your love, even in wartime?
For the Tongue-Tied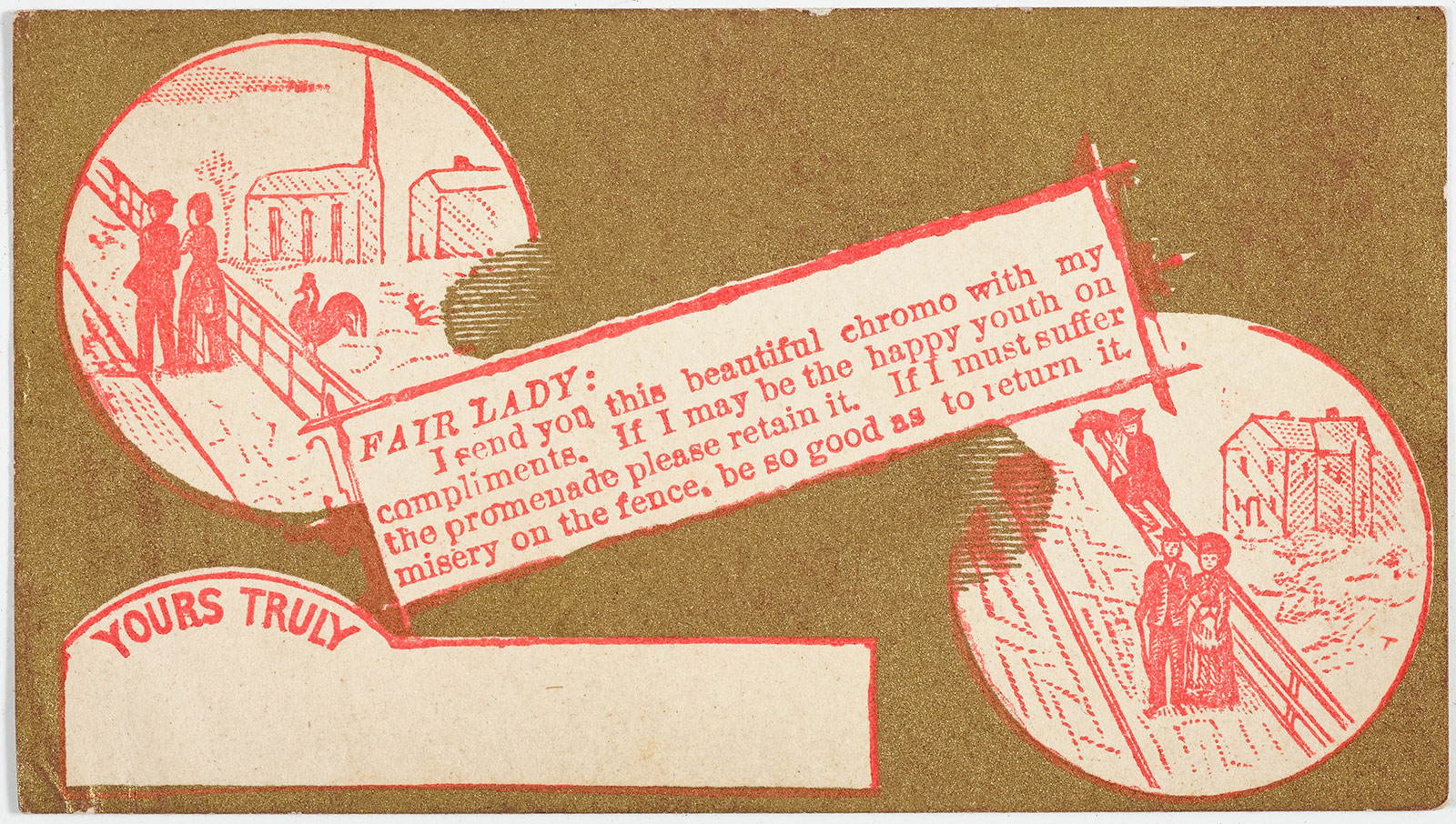 How did Victorians break the ice when proper etiquette emphasized stoic restraint? With a card, of course. The 19th-century equivalent of sliding into someone's DMs, these tiny flirtation cards could be covertly slipped into the hand of the "jammiest bit of jam" that made eye contact with you at the party. Some offered heartfelt sentiments, some were comically naughty; others, like this one, even offered an option for rejection. If you find yourself speechless in the presence of your beloved, erase that "what's up" text you were about to send, and instead charm them with some analog Victorian verbosity.
For Partners in Love and Work

This sheet music is one of many collaborations resulting from the romantic and business partnership of composer Mac Harshberger and illustrator Holland Robinson. Natives of Tacoma, Washington, the two men traveled together to Paris in the early 1920s to study music and art, finding inspiration in Parisian cabaret and Art Deco style. Upon return to the States, they settled in New York and formed Robinson-Harshberger Productions, a publisher of small-edition books of music, rhymes, and illustrations. Although their commercial work conformed to the heteronormative expectations of the time, as with the couple illustrated on this cover, you can still feel the love between them in the lyrics within: "I never, never knew the thrill of rapture 'til I held you close to my heart. I never, never knew the thrill of capture 'til you said we never should part." Swoon.