A Birds Eye View of Greater Miami

Painting, Birds Eye View of Greater Miami, 1925
Louis Francis (American, 1894–1971)
Oil on canvas
The Wolfsonian–FIU, The Mitchell Wolfson, Jr. Collection, XX1989.416
South Florida went through an explosive real estate land boom during the Roaring Twenties. Drawn to the warmer weather and sandy beaches, thousands of Americans migrated to the area and contributed to the rapid development and population growth that put subtropical cities on the map. Among the new arrivals was George A. Rubin, who relocated from Illinois in 1924 and began buying up large tracts of land with a group of investors from Chicago and Miami. The group called their new business the Greater Miami Development Company.
To promote the ample amounts of real estate, the company tapped Louis Francis to paint a bird's-eye view of Greater Miami. Francis had prior experience in creating "pictorial selling maps," and in a March 1925 article in The Miami Herald, mentioned that he had flown by airplane over Miami so many times that he could paint such a view with photographic accuracy. The painting, however, was purposely distorted to highlight the company's holdings, rendering South Miami subdivisions in Sunset Park and Clifford Country Club Estates prominently in the foreground while omitting some major landmarks such as the Miami River.
Unluckily for Rubin, the real estate bubble was already nearing its height by the time he formed his company. In the same year that Francis's mural was unveiled, shipments of building supplies slowed in Greater Miami, an event that was the beginning of a series of unfortunate events that befell the region and culminated in September 1926 with a Category 4 hurricane, devastating much of the new construction and killing nearly 400 people. In effect, the land boom was over—as was Rubin's career, after lawsuits over sales of useless "swamp land" stained his reputation.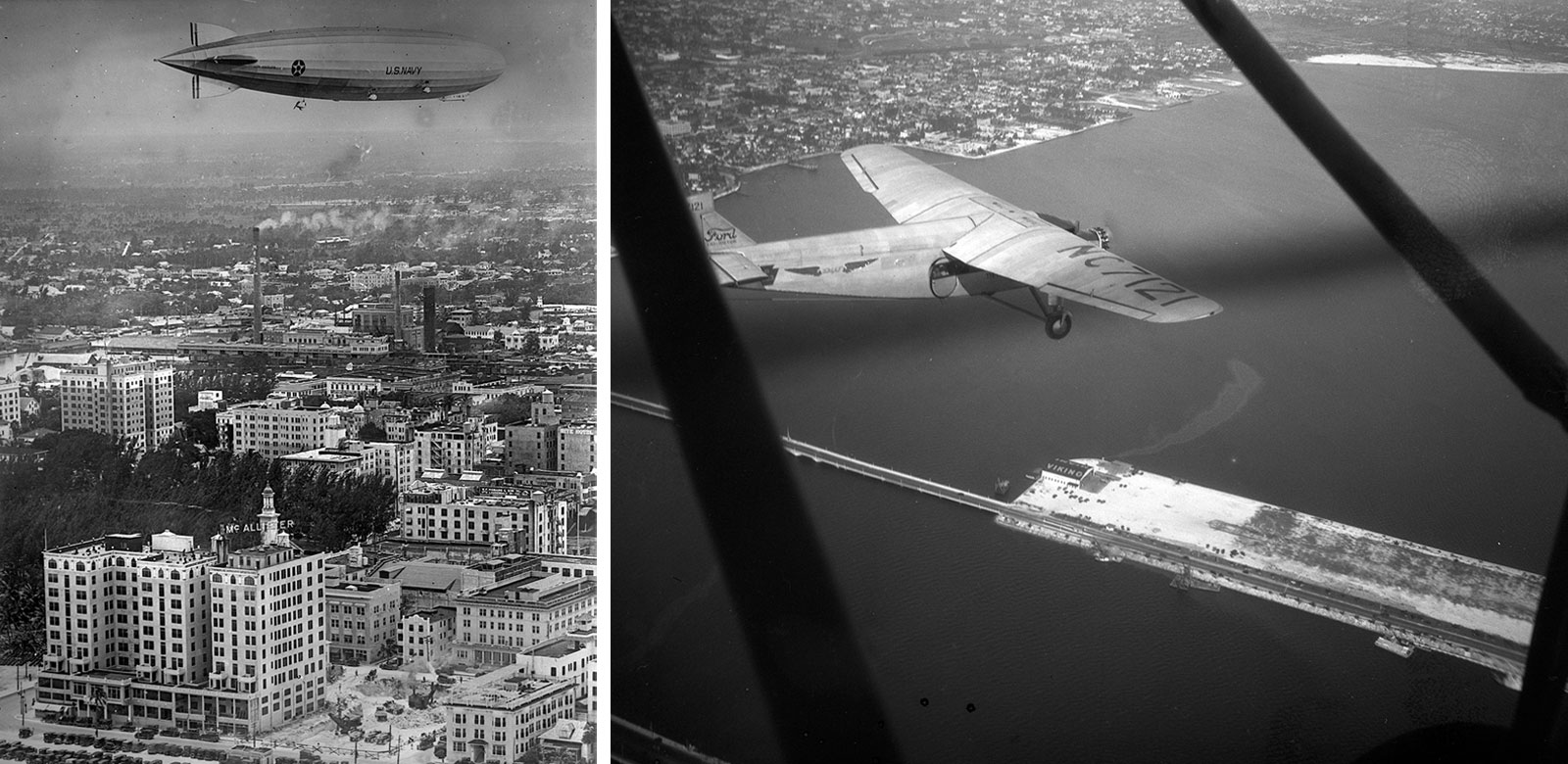 A central feature of our upcoming Aerial Vision exhibition, this mural painting reveals how the advent of airplanes brought new perspectives and allowed artists like Louis Francis to survey their surroundings—especially the modern look of urban centers, newly dotted with high-rises—from above for the first time. See the 20-foot work up close when the show debuts November 19 (with a VIP Preview Party on November 18), and further explore key Miami sites, from hotels to airfields, in Aerial Miami, a Google Earth in-gallery digital experience.
– George Leyva, visitor services associate, with support from curator Lea Nickless