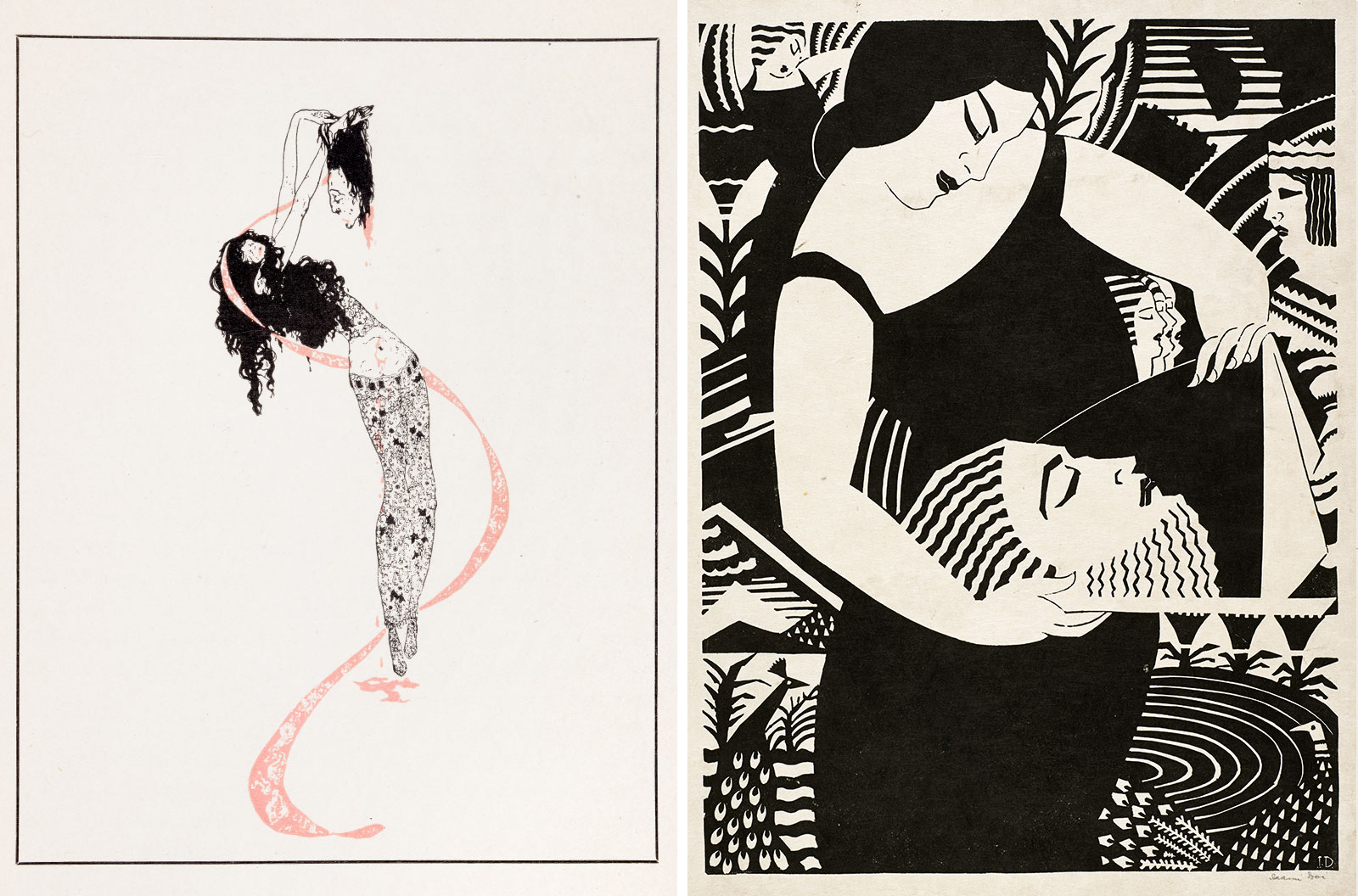 Left: Book plate, from Salomé: drame en un acte [Salome: Drama in One Act], 1927
Alastair (German, 1887–1969), illustrator
Oscar Wilde (Irish, 1854–1900), author
Les Éditions G. Crès & Ci., Paris, publisher
The Wolfsonian–FIU, The Mitchell Wolfson, Jr. Collection, 83.2.28
Right: Print, Salome with the Head of John the Baptist, c. 1940
Isami Doi (American, b. Hawaiian Kingdom, 1903–1965), artist
Hawaiian Kingdom
Woodcut
The Wolfsonian–FIU, The Mitchell Wolfson, Jr. Collection, TD1990.192.1

No pair of artists better illustrate the power of design in shaping how we experience a story than Alastair and Isami Doi, two early 20th-century illustrators who depicted the infamous tale of Salome. Taking inspiration from the biblical drama, both artists captured the emotion of the climactic scene: Salome's execution of John the Baptist, a scandalous murder orchestrated by her stepfather, King Herod Antipas. Their unique takes reveal just how deeply artists can change a narrative and portray the protagonist in a very different light through artistic approach alone.
Hans Henning Otto Harry Baron von Voigt, better known by his pseudonym Alastair, was heavily influenced by his contemporaries. For a 1927 edition of Oscar Wilde's one-act tragedy, he drew inspiration from the poet and playwright's iteration of the story, which represented Salome as an obsessive, lovestruck woman who, having been spurned by John the Baptist, demands his severed head so that she can administer in death the kiss he rejected in life. Alastair also took cues from fellow illustrator Aubrey Beardsley, expressing eroticism—despite or perhaps because of the brutal act—through delicate line work. Salome is dressed with intricate designs on her body as a coral pink ribbon wraps around her in a continuous line, leading the eye from the bleeding head of John raised in her hands down to the pool of blood at her feet. The ribbon is also a reference to Salome's Dance of the Seven Veils, a literary invention of Wilde's and, in his version, Salome's key to securing John the Baptist's death. The illustration's empty background focuses attention on the action of Salome raising her lips to the dripping head.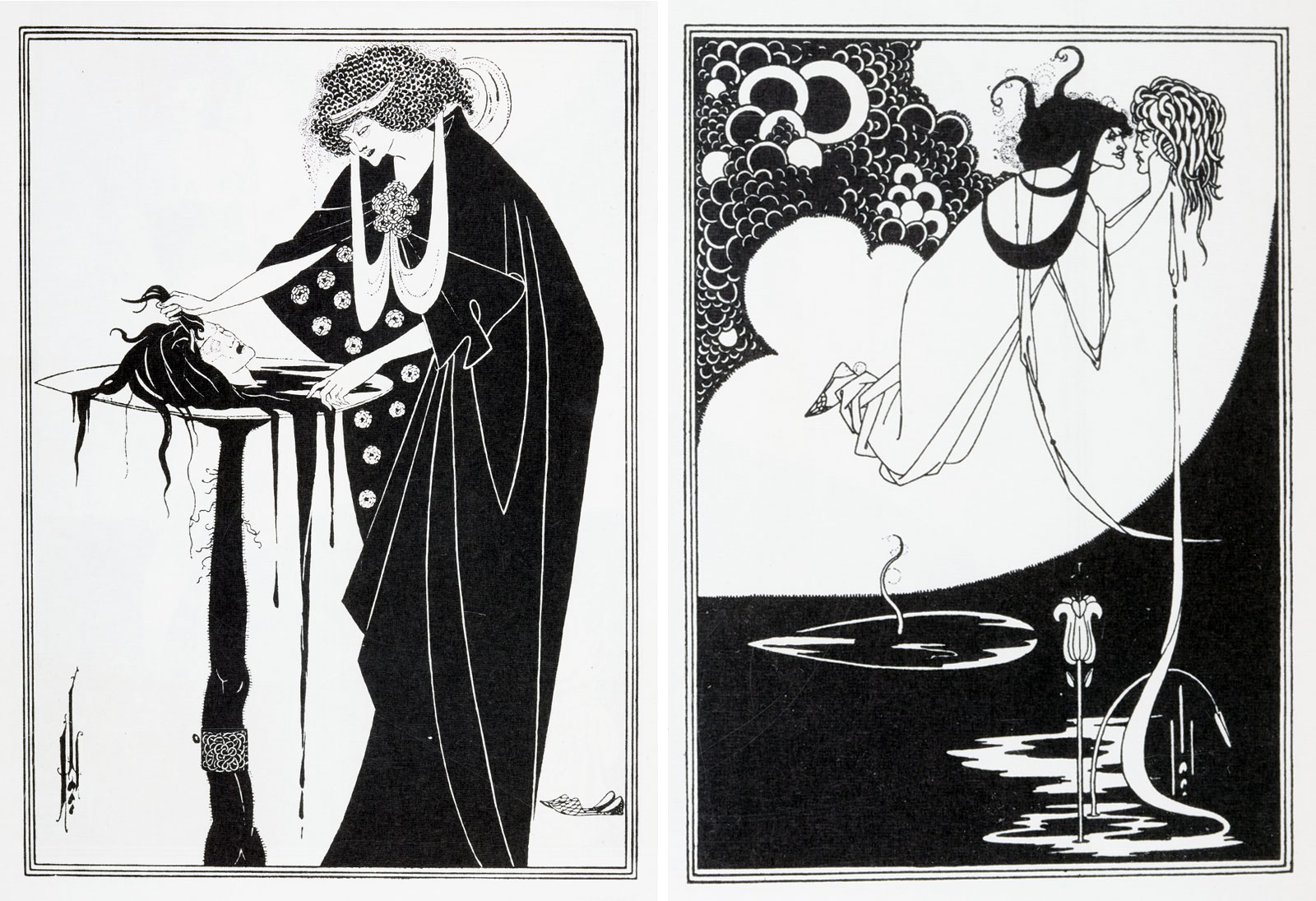 Isami Doi used a very different construction—arguably a more sympathetic one—in his take on the story of Salome from around 1940, being concerned less with judgment and more with storytelling. In his carving for a woodblock print, he created a scene devoid of the grotesque, using thick lines to illustrate Salome as a more restrained and reserved woman cradling John's head atop a platter, as though in regret. Stylistically, elements in the background include the events of the Dance of the Seven Veils on the left, King Herod on the right, and scenery that was inspired by the artist's time growing up in Hawaii. Unlike Alastair's illustration, Doi's print is a single complete artwork rather than an accompanying image to a written text; therefore, it has to do a great deal more work, serving a narrative purpose that requires more layers and detail to encapsulate multiple chapters of Salome's story rather than just the gory conclusion.
Beyond Alastair and Isami Doi, countless artists throughout history, from Caravaggio to Gustave Moreau, have found fascination in Salome. Each brought their own eye to the subject, redefining and revisualizing the narrative and opening up a familiar story to new interpretations.
– Lauren Walker, graphic design intern