Barney Seale's Sculpture of Grief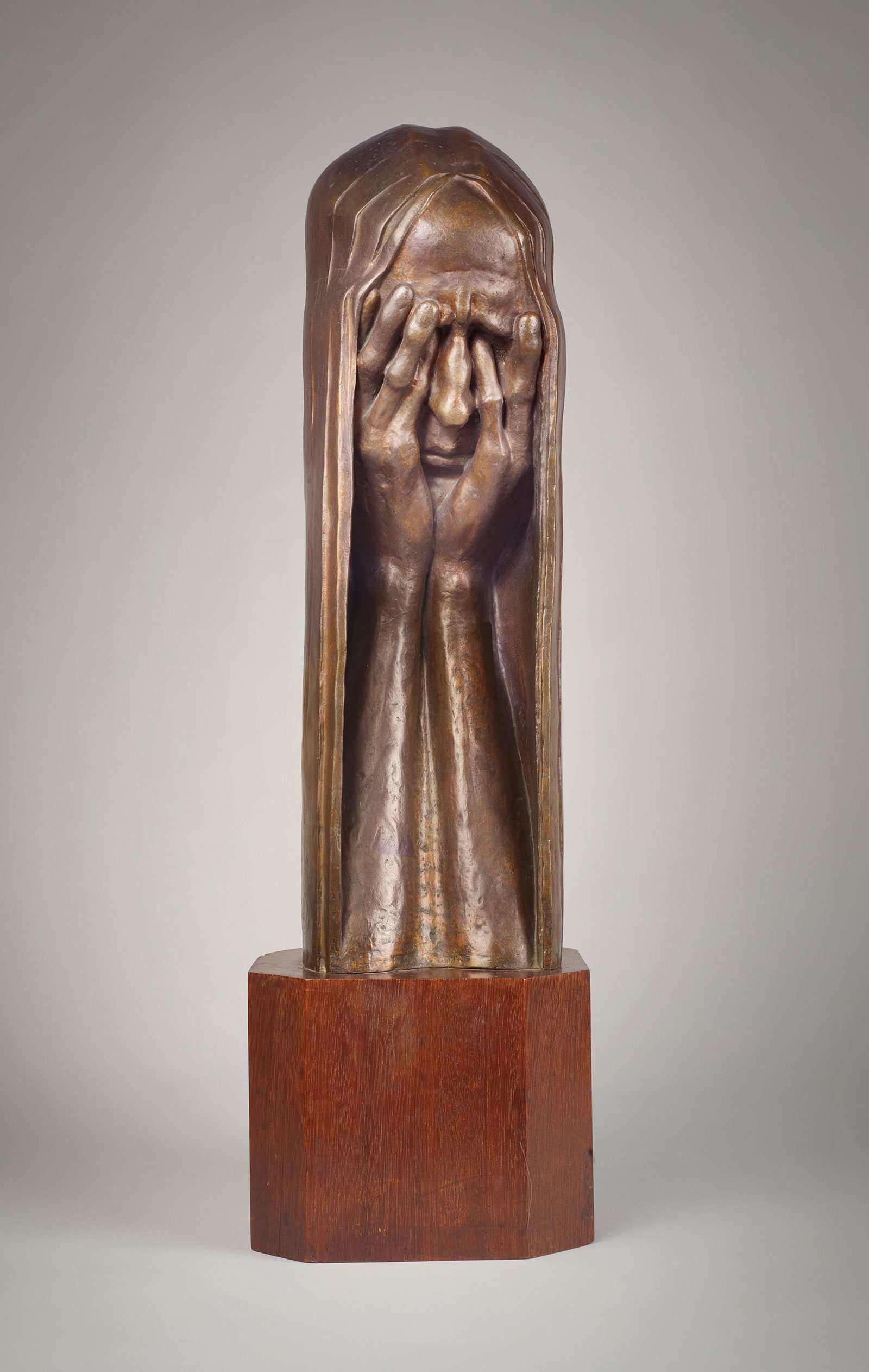 Sculpture, Grief, 1930
Barney Seale (British, 1896–1957)
London
Bronze
The Wolfsonian–FIU, The Mitchell Wolfson, Jr. Collection of Decorative and Propaganda Arts, Promised Gift, 85.6.3
As we remember the events of September 11, 2001, we turn inward to process the incomprehensible and monumental sorrow of that day and of those that followed. One fitting collection piece for the occasion is this haunting sculpture from 1930, Grief—named for that acute pain that accompanies loss, a byproduct of the human condition and one often shared and expressed across time, especially by visual artists.
Pain is manifest in this portrayal of an anonymous woman by London artist Barney Seale, a member of the Royal Society of British Sculptors. Strong, work-worn hands cover most of her face, partially obscuring her distressed features. Long tresses of hair frame the composition, seeming to contain and even constrain the subject, accentuating the sense of isolation and despair. Column-like arms appear to support a collapsing visage. In exposing a moment of personal anguish, Seale encourages participation in this universal emotion.
This sculpture has been seen by many both in print—it was illustrated in The Graphic, May 24, 1930, and Apollo, May 1, 1931—as well as in person. The sculpture traveled in 1931 to New York City, where it was exhibited at the Leger Galleries on Fifth Avenue. In 1936, it was exhibited at the Royal Cambrian Academy of Art in Conwy, Wales. Wolfsonian founder Micky Wolfson acquired Grief in London from the Fine Arts Society and included it in the Miami exhibition Style of Empire: Great Britain, 1988–1947 in 1985. Now, with this post, it will be seen even more broadly as an evocative symbol of heartbreak felt, and mourning borne, around the world.
– Lea Nickless, research curator