Panama-Pacific International Exposition Book Cover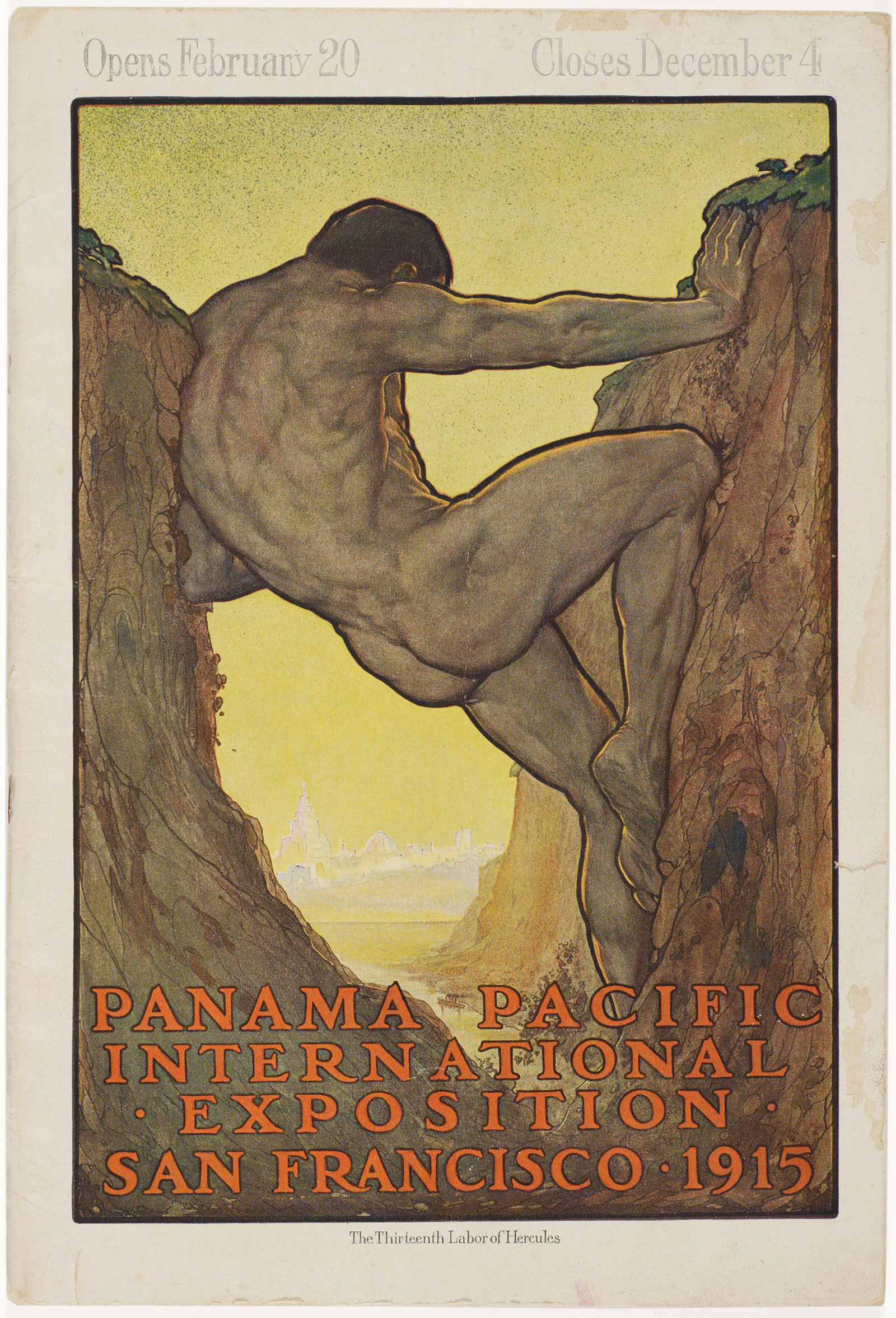 Book cover, "The Thirteenth Labor of Hercules," Panama-Pacific International Exposition Co., San Francisco, 1915, 1914
Perham Wilhelm Nahl (American, 1869–1935), designer
Panama Pacific International Exposition Co, San Francisco, publisher
The Wolfsonian–FIU, The Mitchell Wolfson, Jr. Collection, 85.19.220
On this day in 1914, the Panama Canal was inaugurated as the cargo and passenger ship Ancon completed the first passage through the waterway's complex system of reservoirs, dams, and locks—a journey only possible due to a true marvel of modern engineering.
Ferdinand de Lesseps, the French engineer responsible for completing the Suez Canal in 1869, had been the first to investigate and attempt to connect the Atlantic and Pacific oceans across the narrow Central American isthmus, and other schemes had envisioned opening a passageway through Nicaragua. Plagued by poor planning, financial woes, and malaria and yellow fever that killed some 22,000 workers, the French company went bankrupt. The Americans, eager to expedite commerce with their newly won colonial possessions in the Caribbean and Pacific, continued what Lesseps had begun. Congress authorized the purchase of the French canal company in 1902, and after negotiating treaties with Colombia—and afterwards instigating a Panamanian independence movement—the United States began a campaign of mosquito eradication and construction to complete the canal.
Between 1909 and 1914, U.S.-directed engineers and tens of thousands of workers shifted nearly 720 million cubic feet of earth, blasting, dredging, and building locks along the 40- to 50-mile-long canal at a cost of $400 million—the largest construction project of the era. While Afro-Caribbean islanders provided much of the hard physical labor, one of the most popular illustrations celebrating their Herculean efforts used an image alluding to the hero of Greek mythology. In 1915, the fair organizers at the Panama-Pacific International Exhibition in San Francisco promoted the fair with a design by Perham Wilhelm Nahl depicting a nude, muscular Hercules opening the colossal canal at Culebra Cut. Nahl's prize-winning illustration was reproduced as a poster, included on maps, and featured on book and exhibition catalog covers such as this one.
– Frank Luca, chief librarian