Fondation Rothschild Design Drawings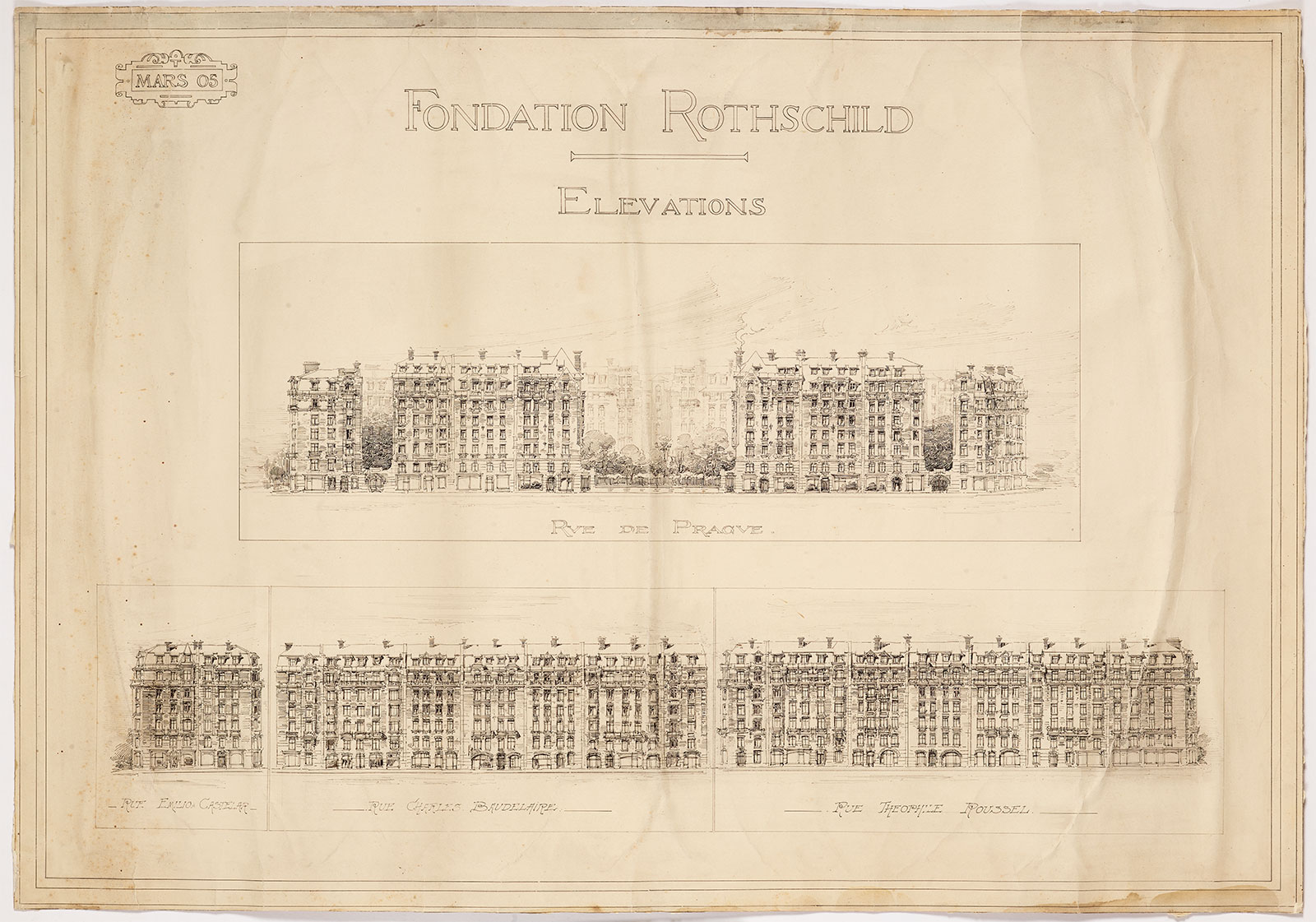 Design drawings for the Fondation Rothschild architecture competition, Paris, 1905
Ink on linen
The Wolfsonian–FIU, Purchase
During the 19th century, waves of job seekers inundated cities around the world, leading to growing workforces that rapidly outpaced available housing. This was especially true in Paris, which lagged behind urban centers like New York, Berlin, and London in accommodating workers and their families. Aside from supplying physical shelter, charitable Parisian organizations also wanted to address hygienic concerns to counteract continued outbreaks of cholera and tuberculosis. Key to this effort was rethinking from the ground up how multi-unit residences should be designed.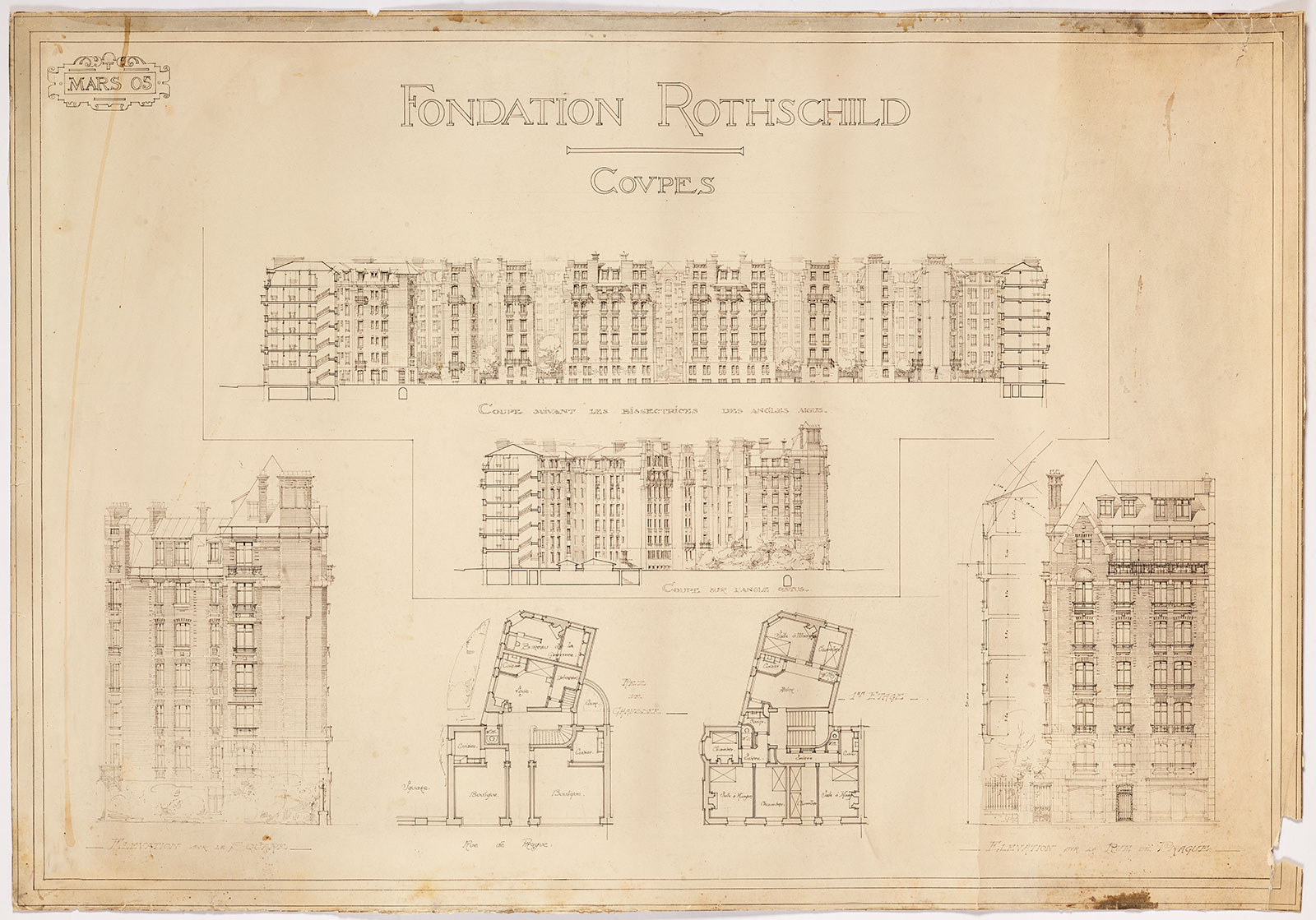 Before the early 1900s, many cities solved their urban housing crises by erecting large, eyesore apartment buildings and packing people in like sardines. These buildings provided little comfort, creating ideal environments for the spread of disease. To help address the issue, the Fondation Rothschild—a philanthropic foundation run by the French branch of the prominent European banking family—mounted a 1905 architectural competition challenging designers to propose solutions for a more public health-conscious building complex on Rue de Prague. The Rothschilds, who were constructing a nearby hospital, wanted to ensure their workers had access to easily affordable housing built according to stringent hygienic standards, a mission that reflects regard for their employees' health as much as a keen interest in protecting their project's bottom line.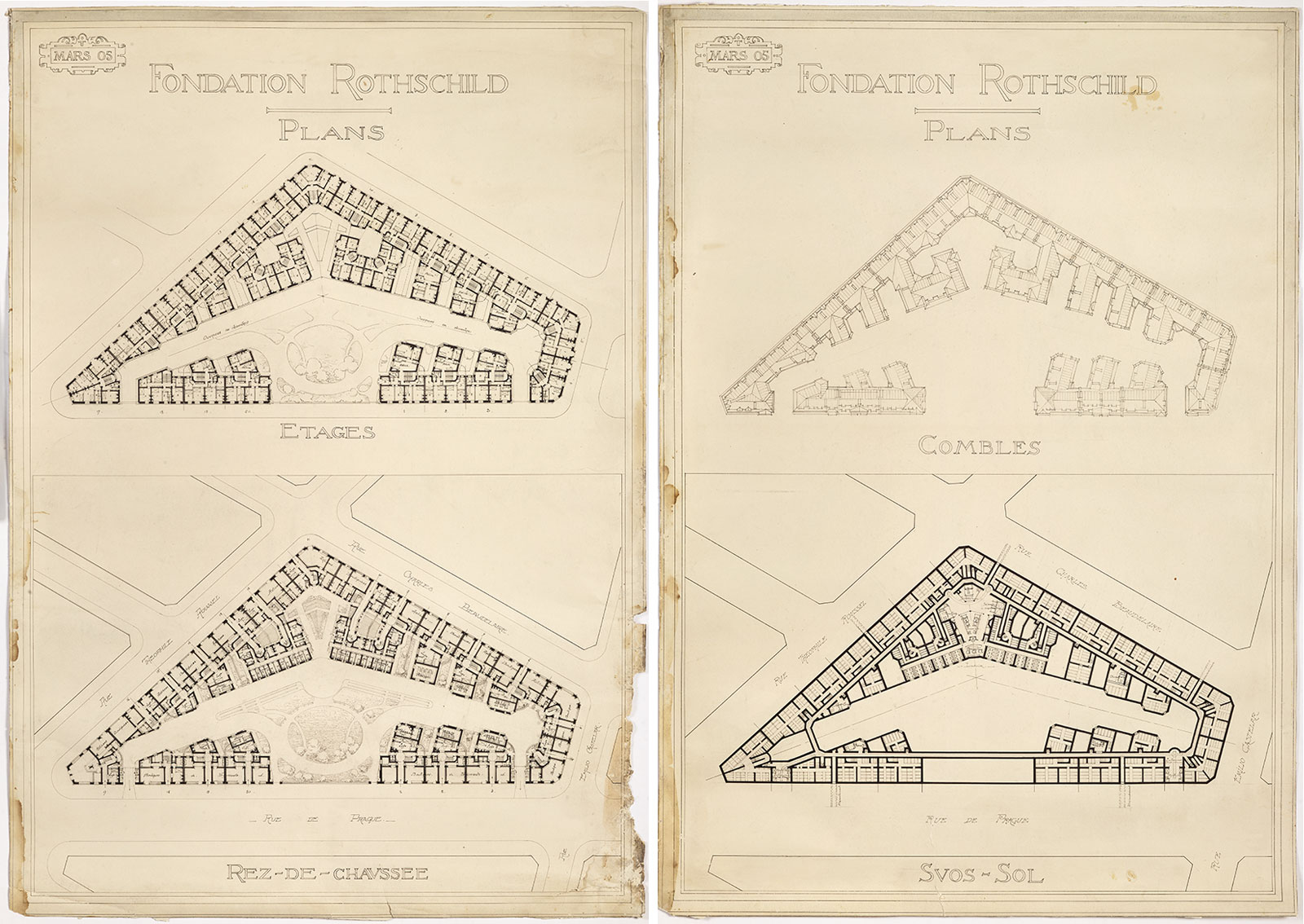 These plans, recent acquisitions to the Wolfsonian collection, are from an unidentified architect who participated in the 1905 competition. The spatial designs allow residents room for resting, eating, and leisure, and the rooms incorporated ventilation to improve air circulation and avoid the spread of contagious droplets. The Rothschilds wanted the architects to merge built structures with the natural environment, a consideration reflected here in the ample green spaces surrounding the building. While this design was ultimately not selected, you can find the same ideals and strategies in the winning proposal by Augustin Rey.
The Fondation Rothschild competition was a success and would serve as a standard for Habitation à Bon Marché—a system of cheap housing whose construction was encouraged by the French government through tax exemptions—demonstrating domestic architecture's continued influence on public life.
– Daniel Valladares, Metadata Squad graduate research assistant
From collector, donor, and Wolfsonian founder Micky Wolfson: "One of my great interests has always been urbanism and public housing as keys to deciphering the social forces that shaped modern cities. I am exceedingly grateful that vigilant research continues to reveal the secrets and layered histories found in our objects."