November 5, 2020
By Shoshana Resnikoff, curator, with research assistance from Brea Jones, storytelling intern
What do masks mean as objects in the age of COVID-19? The online exhibition Rapid Response Mask Collecting Project explores this question. Led by Natalie Wright, a PhD student at the University of Wisconsin-Madison, the digital experience showcases contemporary masks collected by the Helen Louise Allen Textile Collection at The Center for Design and Material Culture at the University of Wisconsin-Madison, informed by the rapid response collecting model that London's Victoria & Albert Museum pioneered. The goal is to document, in real time, the diversity of masks and their variety of meanings and messages.
Rapid response collecting, particularly in design and material culture collections, is a process of documenting history as it happens. As art and design historians, curators often benefit from hindsight—we can better see the impact of an object or set of objects from farther away, or so we think. Rapid response collecting upends that model, arguing that immediacy can be as much a collecting guideline as distance.
My interest in rapid response collecting, however, is purely academic at this point. The Wolfsonian collection cuts off at 1950, and so I must leave the documentation of pressing design issues to my colleagues at contemporary design museums and to talented scholars like Natalie. Inspired by this project, however, and reminded daily of the importance of mask wearing, I have assembled a list of some of the more interesting masks (and images of masks) from across our holdings.
Masks for Work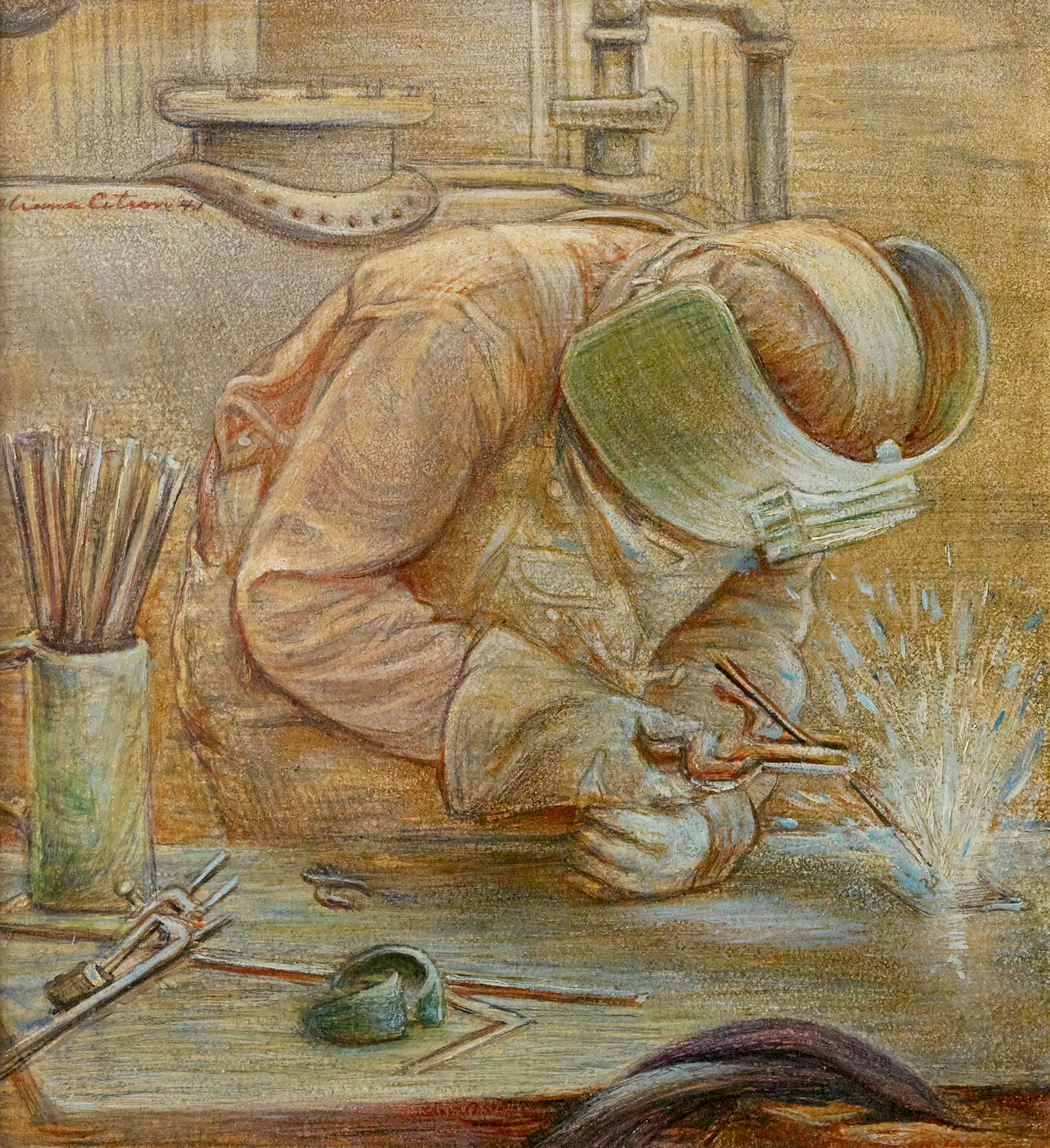 One of my favorite paintings in the collection, this work by Minna Wright Citron shows a welder at work. Small in scale, The Welder is nonetheless highly detailed, with special attention paid to the protective mask worn by the subject. I am particularly taken by the way that the mask protrudes where an opening allows the wearer to see. The protrusion gives the effect of seeing without seeing: though the welder's eyes are not visible, we know from the direction of the mask how attentive and careful she is. I write "she" because there is a longstanding theory that the worker pictured is Citron herself—we have yet to confirm the welder's identity, but it's a rumor that I hope proves true.
Masks for Fun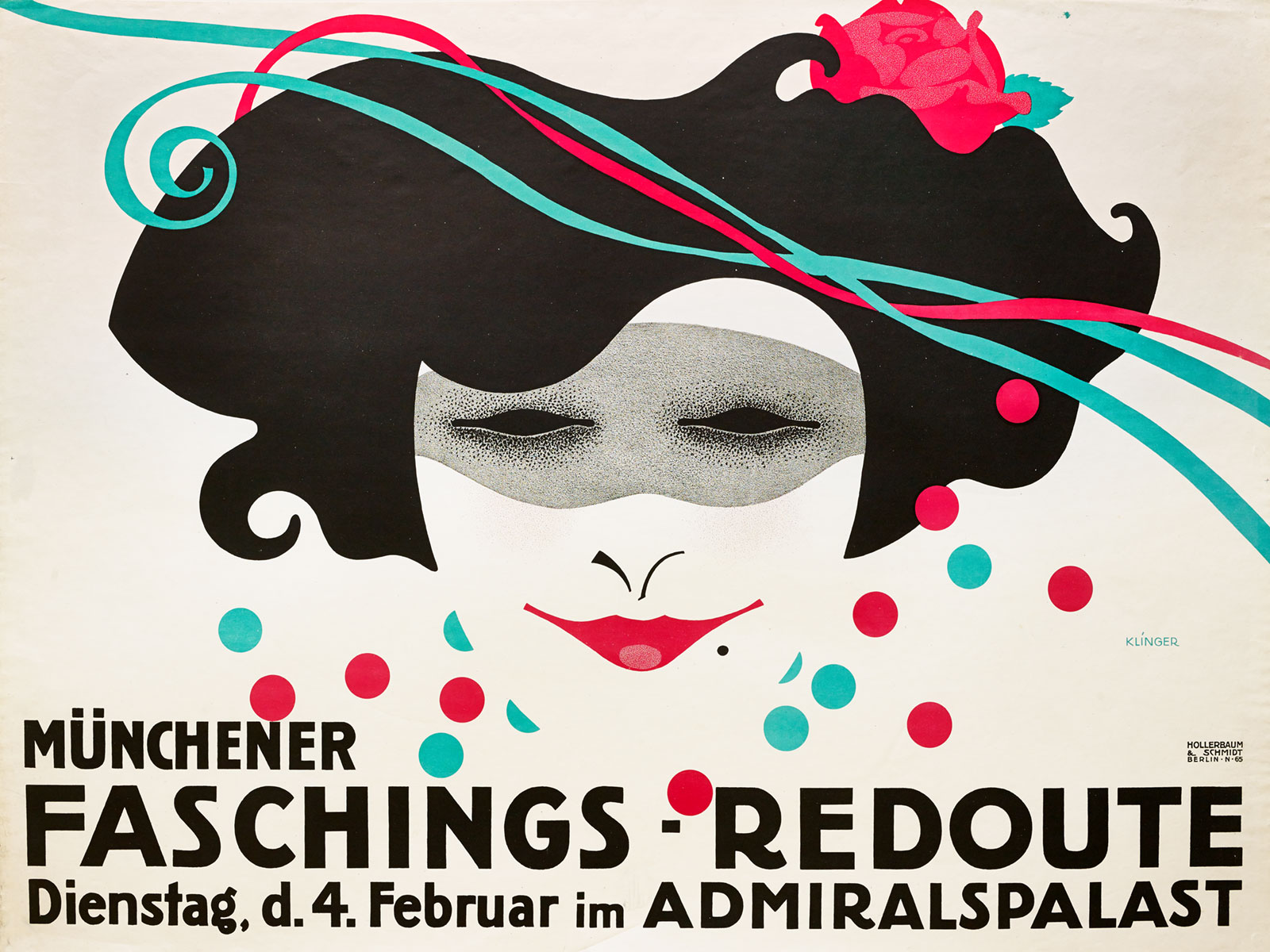 Featured in the 2017 Wolfsonian show Julius Klinger: Posters for a Modern Age (soon to travel to New York City's Poster House), this poster advertises a masked Carnival ball at Berlin's Admiralspalast, an entertainment and variety theater. In the lead-up to Lent and Easter, Carnival balls were an important part of Berlin's social calendar. In this poster, designer Julius Klinger captures the energy of the party with sinuous lines, highly contrasting colors, and circles erupting like bubbles across the sheet. The subject of the poster wears a sheer mask that barely hides her eyes—enough cover to excuse whatever misbehavior she gets up to, the design implies, but not enough to truly disguise her identity or impede her fun.
Masks for War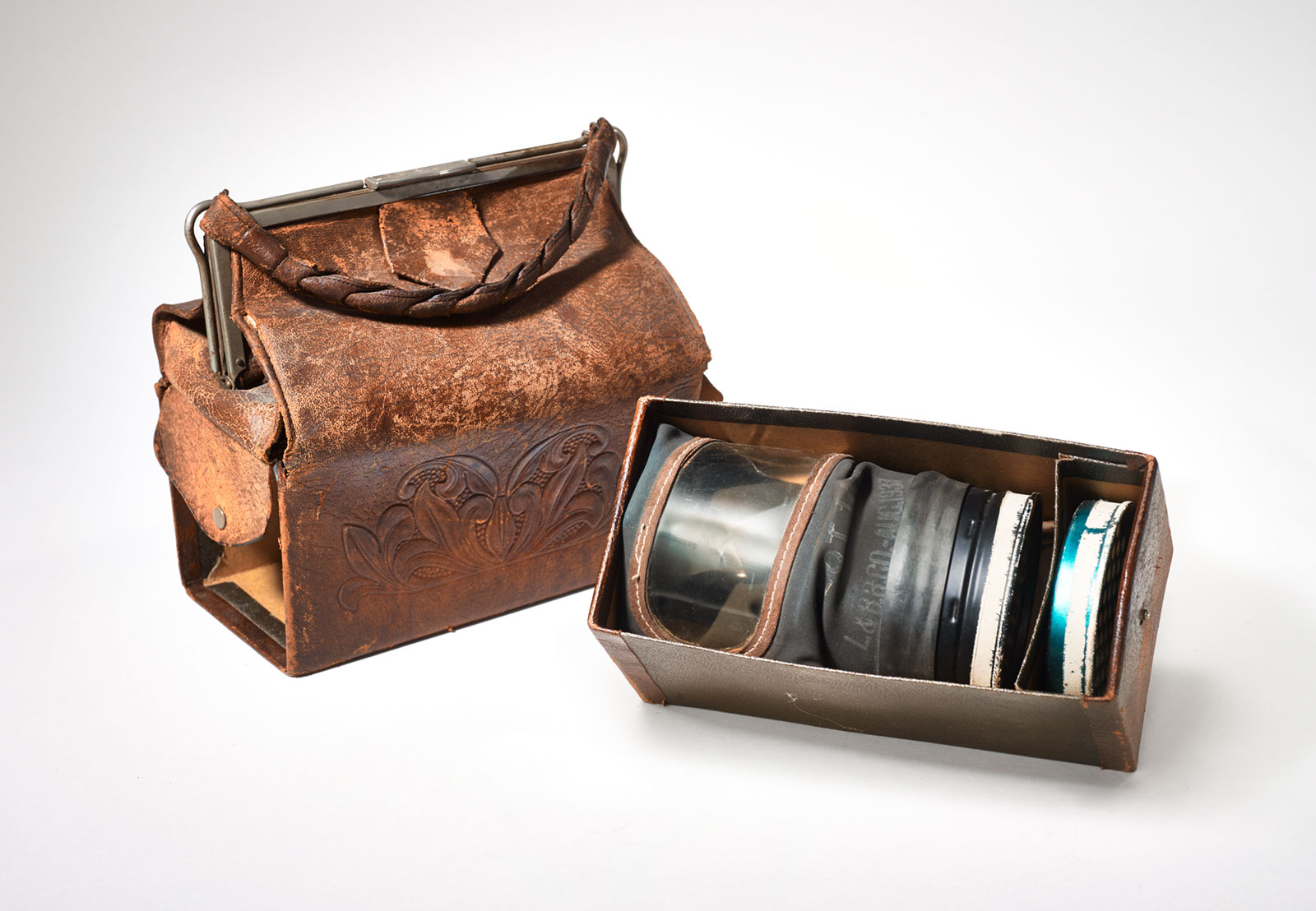 This is by far the largest category of masks in the Wolfsonian collection, and also the one most relevant to our mask use today. In the First World War, gas masks were necessary for soldiers on the front, and by the Second World War, civilians prepared to use them in case of city bombings. Functional, life-saving devices, gas masks were also bulky and inconvenient.
Exhibited this past year in A Universe of Things: Micky Wolfson Collects, this gas mask and handbag show how civilians incorporated the reality of total war into their everyday lives. With the outbreak of war in 1939, the British government distributed a gas mask to every citizen in the United Kingdom. What they didn't provide was a convenient way to carry the gas masks, a problem as men, women, and children were expected to have their respirators on them at all times. Private industry filled the void, retailing stylish carrying cases for men and women. Not to be outdone, fashion magazines printed guides so that DIY-ers could make their own gas mask purses.
This handbag does double duty as both purse and mask carrier. The clasp at the top provides access to everyday necessities, while the flaps at the sides unsnap to release a leather and cardboard box containing the gas mask. The bag's carefully tooled leather and metal frame suggests that it is of the store-bought variety. With a lack of any identifying marks, however, it could also be the product of a particularly crafty individual who recycled leather to create an at-home handbag with style and creativity.
Regardless of who made it, bags such as these were necessary accessories as British men and women adjusted to the new normal of life during wartime. The British government understood the importance of gas masks and issued public service films to spread the word, as seen in a period clip archived by British Pathé.
Masks as Metaphor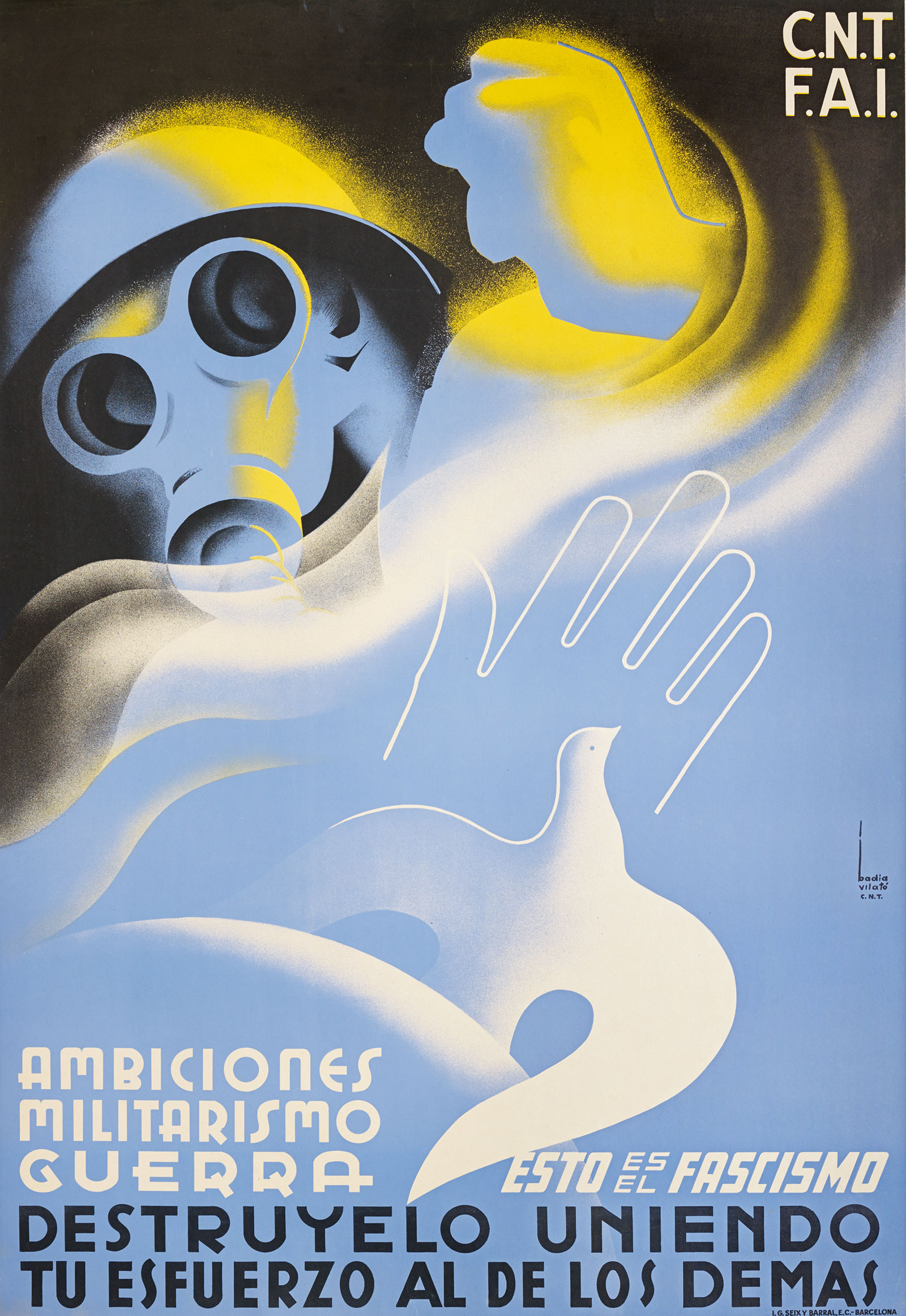 Designed in support of the anti-fascist Republican forces during the Spanish Civil War, this poster captures another use of gas masks: as a metaphor, in this case for fascism. Here, the gas mask is not a life-saving device, but a sign of the ill intent of the wearer. A dove of peace and an open hand on one side against a clenched fist and masked face on the other—the meaning is clear. As a device for hiding one's face, the mask is an easy metaphor for menace. It is also a reminder that gas masks are only necessary when an aggressor has done something to threaten the air itself.
It is rare to have the opportunity to save the lives of so many by doing so little—in this case, simply by wearing a mask and urging those around us to do the same. Programs like the Rapid Response Mask Collecting Project help us to recognize the power of objects in the very moment that they impact our lives, while collections such as The Wolfsonian's allow us to reflect on objects of the past and what they can tell us about our lived experience today. When I put my mask on to leave the house, it's comforting to remember that this small scrap of fabric has meaning—to myself, to the lives I save by wearing it, and to the generations of people who will look at masks like mine and reflect on this extraordinary moment in time for years to come.
If you would like to contribute to The Center for Design and Material Culture's mask exhibition, please email masks@sohe.wisc.edu with ideas for masks to collect.